Investment thesis
Mondelez International (NASDAQ:MDLZ) substantially underperformed the broader U.S. stock market this year. On the other hand, my analysis suggests that the stock is very attractively valued, and its dividend growth rate has been stellar over the past decade. The company's balance sheet is not as strong as it could have been given strong profitability metrics, but it still makes it well-positioned to drive growth. I also like MLDZ's ability to improve profitability and its current stellar revenue growth momentum. The company owns a strong portfolio of brands, and the management demonstrates solid execution when adding new brands to the company's pipeline. From the secular standpoint, the company's financial outperformance over the long-term compared to its closest rivals clearly indicates a much stronger market positioning than its competitors. All in all, I assign MDLZ a "Buy" rating.
Company information
Mondelez International is one of the world's largest snack companies, which sells its products in over 150 countries. The core business represents making and selling chocolate, biscuits, and backed snacks under various brands, including Oreo, Ritz, CLIF bar, Milka, Toblerone, etc.
The company's fiscal year ends on December 31. MDLZ splits its operations into four reportable segments by geographic areas. According to the latest 10-K report, the company generates about 70% of sales outside North America.
Financials
MDLZ's financial performance over the past decade has been solid. Despite revenue stagnation with no growth, MDLZ improved its profitability metrics. While the gross margin did not demonstrate improvement, the operating margin expanded decently. The same with the free cash flow [FCF] margin ex-stock-based compensation [ex-SBC]. Despite no revenue growth, improved profitability metrics are a solid sign for value investors, meaning the company can exercise pricing power and improve its revenue mix towards more profitable products.
Consistently wide FCF margin allowed the company to keep shareholders happy over the past decade with stable stock buybacks and dividend growth. MDLZ delivered a solid above 11% dividend CAGR over the last five years, sustaining a payout ratio slightly below 50%. While I appreciate the management's generous approach towards shareholders, it seems that the company's financial position suffered slightly due to this approach. Despite having a moderate leverage ratio, the company is in a substantial net debt position, and short-term liquidity metrics do not look like a fortress either. Nevertheless, the current leverage level and covered ratio allow the company to continue expanding its product portfolio, which is a good sign for investors.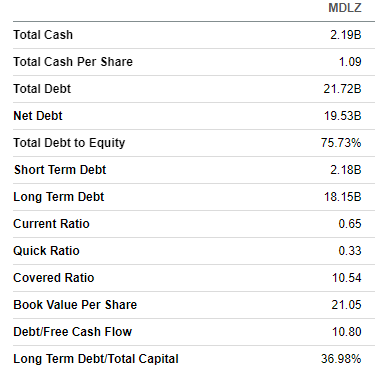 Another good sign for investors is the strong revenue growth momentum. The latest quarterly earnings were released on November 1, when the company topped consensus estimates both on revenue and the non-GAAP EPS. Revenue grew YoY at double digits for the fourth straight quarter, which is a firm bullish sign. The top-line strength allowed MDLZ to expand profitability metrics notably. The gross margin expanded YoY by five percentage points, while the operating margin improved by more than six percentage points. As a result, the adjusted EPS expanded YoY from $0.74 to $0.82.

I like the latest quarterly financial performance, looking at the high level, but I would also like to dig into deeper details to highlight a few more positive signs. An apparent positive sign to me is that Mondelez demonstrates strength across all major product categories, including chocolate, biscuits, and gum & candy. Strength across all product categories means the management efficiently composes product portfolios, which is quite essential for the industry. None of the product categories drags the business down, and there is no apparent leader, which means more predictability to me.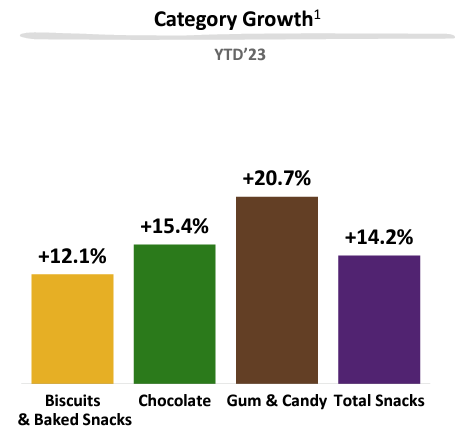 Another positive sign is the company's apparent pricing power. During the latest earnings call, the management underlined that inflation is still challenging. Nevertheless, MDLZ demonstrated substantial profitability expansion, suggesting strong pricing power to me. The ability to exercise pricing power, especially in the current environment when consumers' pockets are draining due to high inflation and high-interest rates, clearly indicates the strong brand loyalty and product quality offered by Mondelez.
Mondelez also demonstrates strong results across all locations where its products are sold, which indicates the company can perform well in diverse regions, highlighting the global strength of MDLZ.
Last but not least, one more bullish sign from the latest earnings call is the upgraded full-year guidance by the management. The upgrade relates to the top-line and profitability, meaning long-term revenue growth is healthy and sustainable. Guidance upgrade from the management is crucial amid the current uncertain environment when consumers are becoming more cautious.
Now, let me look at MDLZ from the secular perspective to assess the company's long-term prospects. A solid long-term factor on the surface is Mondelez's portfolio of well-known brands like Oreo, belVita, and Toblerone. These solid assets make the company well-positioned to sustain strong brand recognition and consumer loyalty. What is also quite important is that Mondelez's management does not rely too much on its legacy brands but also expands into new brands and niches. For example, according to the latest earnings call, "Ricolino" is now the number-one Hispanic confectionary brand in the U.S.
I also like the management's strong ability to demonstrate flexibility amid the rapidly evolving environment of changing consumer preferences. For example, according to statista.com, the global snack food market is expected to compound at a decent 6.3% yearly, which is solid for an overall mature market like the food industry. Mondelez sees excellent opportunities here as its portion of snack revenue is expanding notably.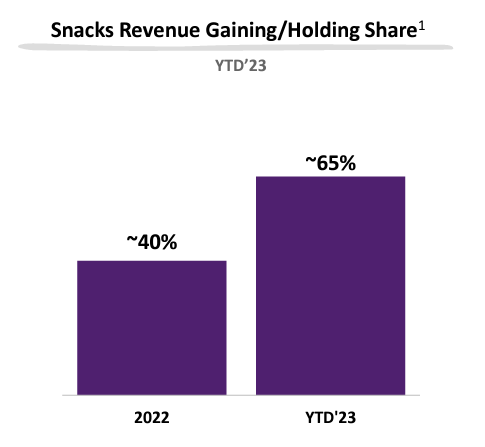 But it is crucial to underline that the food industry is highly competitive, where several giants with vast resources operate. A good quality sign of the business over the long term, allowing it to compete, is its profitability, and I think that the gross margin is crucial here as it means the company is able to allocate more resources to marketing and reinvesting in its brands. From this perspective, MDLZ looks notably stronger than its rivals like Kraft Heinz (KHC) and General Mills (GIS).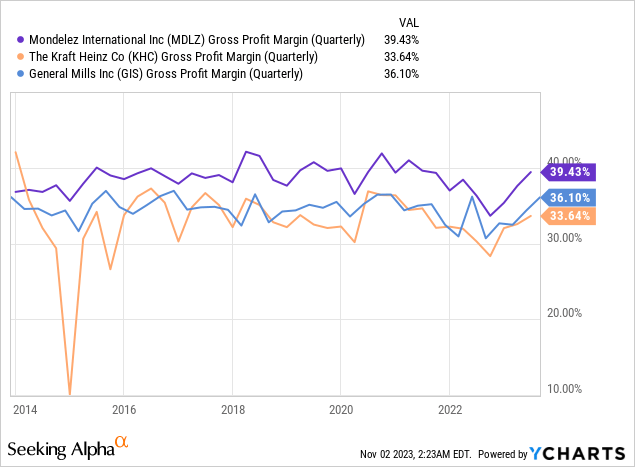 What is also important here is that MDLZ outperforms its closest rivals from the revenue growth perspective by a wide margin, even considering a substantially larger scale. Mondelez outperforms both in terms of revenue growth and EBITDA expansion across the board of different timeframes, which clearly indicates a much stronger market position compared to competitors.
Overall, I am highly convinced that Mondelez's current strong financial performance is not due to some one-off occasions but due to the management's stellar execution over the long term. The company demonstrates solid ability to adapt and improve its revenue mix. The ability to deliver strong performance across all product categories and geographies is a strong bullish sign to me, meaning that the management can exercise strategically sound decision-making consistently.
Valuation
The stock price increased by less than 1% year-to-date, which is a significant underperformance compared to the broader U.S. market. Seeking Alpha Quant assigns MDLZ a low "D" valuation grade because its ratios are substantially higher than the sector median. On the other hand, current multiples are mostly lower than historical averages. That said, outcomes of valuation ratios analysis are mixed and do not give a high level of certainty.
Thus, I need to proceed with another valuation approach. MDLZ has a strong dividend growth track record. Therefore, the dividend discount model [DDM] looks like a reasonable choice to proceed with. I use a 10% discount rate and an FY2024 dividend consensus estimate of $1.77. I use a very conservative 8% dividend growth, which is notably lower than the past decade's CAGR of more than 11 percent.

According to my DDM calculations, the fair price of the MDLZ stock is around $89, which means a massive above 30% upside potential.
Risks to consider
While there are several bullish signs, and the valuation of MDLZ looks attractive, potential investors should also acknowledge and understand potential underlying risks.
I think that macroeconomic conditions and inflation, which are still flying higher than historical averages, are the biggest near-term challenges. The environment of record inflation in 2021-2022 drained consumers' pockets and this factor is likely to strain consumer budgets, especially for discretionary foods like cookies and chocolate.
I also see a big secular headwind for snack companies like Mondelez. While the company's recent financials suggest its performance is firmly resilient, there is a trend for younger generations to be more health-conscious than previous ones. So far, the company demonstrated a solid ability to adapt, and this secular factor apparently should be incorporated into the company's long-term strategy.
Last but not least, it is important to remember that the company generates about 70% of its revenue outside North America which poses significant international trade risks, including a complex web of regulations and foreign exchange risks.
Bottom line
To conclude, MDLZ is a "Buy". The stock is very attractively valued based on my dividend discount model. Fundamental analysis suggests that the company's management is able to deliver profitability improvement even while navigating the current challenging environment. The current momentum for the company's financial performance is stellar. I like the management's confidence in near-term prospects, which is suggested by the guidance upgrade during the latest earnings call.