Close followers of the automotive world have voiced a common complaint over the last few years: the Infiniti lineup has grown stale.
But the company has a plan for that.
Nissan's luxury marque used last week's Japan Mobility Show (formerly the Tokyo Auto Show) to show off a brand renaissance of four new models, one a preview of its electric future. The slate of new cars doesn't completely replace the existing Infiniti lineup. But it comes close.
Plus: Buying a new car? Don't expect a bargain, even with more vehicles on dealership lots.
An aging lineup with a few gems
The luxury arm of Nissan
NSANY,
-2.65%,
Infiniti was once known for sharp-handling sedans and coupes that threatened BMW
BMW,
-0.36%
with their athleticism. A decade or so ago, it made a name for itself with lovely, well-thought-out interiors with elegant nods to Japanese heritage.
Then Infiniti seemed to rest. Our editors rate the QX50, QX55, and QX60 SUVs all around four out of five stars for 2023. But most ride on architecture older than key competitors. The brand's flagship Q80 rides on the bones of the 2010 Nissan Armada.
And, while car shoppers in general have been slow to embrace electric vehicles, luxury buyers are the exception. Studies show they're going electric faster than mainstream shoppers and are more likely to buy a second EV.
But Infiniti dealers have nothing to offer them.
That's all about to change.
Four new models
This summer, the brand unveiled a series of design themes that weren't actual cars, including a signature scent and a master track of sounds, meant to convey where Infiniti is headed. Last week, it followed up with glimpses of new cars.
Infiniti unveiled last week what it calls "a comprehensive range refresh, signaling a product renaissance."
It includes four new models, two of which are officially concept cars and two of which are headed for showrooms, as you see them here.
Plus: Check out Kia's new EV concepts: Could the weird-looking EV4 replace the Soul?
Remade QX80 flagship
Earlier this year, Infiniti showed off a concept car, the QX Monograph, that seemed destined to be the next QX80. Last week, the company confirmed the inevitable.
The production QX80 looks almost identical to the concept. It's purposefully bulky, with intimidating lines. Hidden door handles make its curved slab sides look like the biggest thing on the road, capped off by a tall greenhouse. Organic vertical lines in a tall grille are meant to mimic a bamboo forest, Infiniti says.
Infiniti has not offered any mechanical details. But the brand calls out a different model as its first EV, so this is likely a gas-powered model.
Check out: 10 new SUVs coming soon—and worth the wait
New QX65 crossover coupe
Infiniti will join the Euro trend of SUV Coupes with the QX65.
Infiniti promises "a stylish two-row alternative in the cluttered mid-size crossover segment." It seems likely to be a sleek take on the QX60, sacrificing some cargo space for style.
The sole image of the car so far is the heavily-shadowed shot of all four of the reveals. There, it seems to have a higher beltline and lower roofline than even many European SUV coupes, suggesting a particularly aggressive stance. But it likely uses all the mechanical parts of the QX60, meaning a 3.5-liter V6 engine rated at 295 horsepower and optional all-wheel drive.
The "all-electric sedan of the future"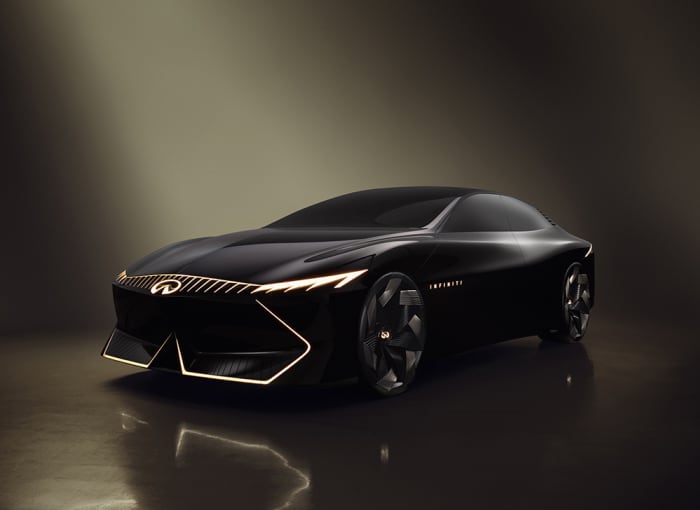 The Infiniti Vision Qe is the brand's first electric vehicle, though the final product may not look exactly like this. This one is officially a concept car.
It's dramatic, with a fastback roofline arcing down to meet a sweeping curve of light reaching to almost touch the rear tires. Up front, Infiniti says, the lighted false grille is inspired by piano keys. A massive plow-like lower fascia is outlined in thin LEDs. If this pulled up behind you at night, your eyes would be glued to the rearview mirror.
But that detail may not make it to production without some design changes to prepare it for a world of fender benders and parking bollards.
Infiniti has no technical details to offer. So, this one may be a while from showrooms. But we think something much like it is headed for dealerships. In the same press release calling this a concept car, Infiniti revealed plans to build its first EV in Mississippi.
Don't miss: 10 new cars worth waiting for
All-electric crossover to follow
The most mysterious of the four new vehicles is the Vision QXe Concept. All Infiniti will say is that it "blends the practicality of a crossover body style with Infiniti's latest design form and a suite of advanced technologies."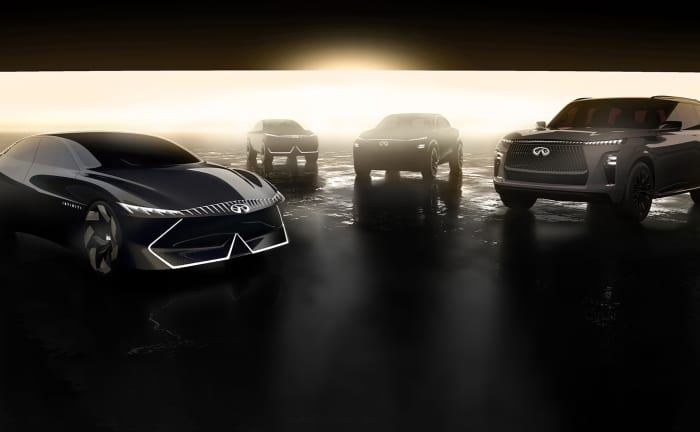 In a photo of the four, it sits furthest back, obscured by the Photoshop equivalent of JJ Abrams lens flare. We can make out a front fascia much like the Qe and taller proportions, but that's about all.
Be sure to read: The big problem with chargers that's challenging electric car owners
The four make for a dramatic makeover – something the brand has needed for some time. The two EVs may not reach showrooms soon, but we expect to hear release dates for the QX65 and the reborn QX80 before long.
This story originally ran on KBB.com.