Overview
My recommendation for Fevertree Drinks Plc (OTCPK:FQVTF) is a sell rating, as I expect the valuation to revert down due to its deteriorating historical financial performance. This expectation is based on its historical financial performance, which has been showing signs of weakness. FQVTF recently reported disappointing second quarter results, indicating a slowdown in revenue growth and an increase in costs. Moreover, the management has lowered both their revenue and EBITDA guidance, which suggests a lack of confidence in the company's prospects and a deteriorating business outlook.
Business
FQVTF is in the business of creating and selling high-quality mixer drinks. The company's product range includes a variety of tonic water, ginger drinks, sodas, and sparkling drinks. These products are marketed under the brand name Fever-Tree and are primarily sold to bars and restaurants. Over the past six years, the company has experienced a consistent decline in its year-over-year revenue growth rate, falling from 66% to 11% in 2022. This decline signals that the company is entering a more mature growth stage, where sustaining the high growth rates it previously enjoyed will become increasingly challenging. Additionally, when considering EBITDA margins, there has been a continuous decrease, declining from 34.5% to 11.5%. This decline can be attributed to the ongoing high inflationary environment. While there has been some improvement in inflation, it still remains above the Federal Reserve's targeted rate of 2% and shows signs of persisting.
Recent results & updates
FQVTF's H1 2023 results were disappointing, as they reported a meager 6% revenue growth when adjusted for currency fluctuations. While the US market experienced robust growth of 32% year-over-year, the remaining markets only saw low single-digit expansion. In the UK, sales increased by a mere 1% due to unfavorable summer weather conditions. Meanwhile, Europe showed 4% growth, but sales in the rest of the world declined by a significant 35% owing to an unfavorable economic environment. Considering the weak revenue growth in the second quarter, the adverse weather conditions in the UK, and the challenging economic backdrop, I anticipate that FQVTF's full-year revenue growth for 2023 will face considerable pressure.
we're reducing our full year revenue guidance range to £380 million to £390 million for 2023. In the U.K., we're seeing more subdued trading than expected over summer, where poor weather impacted across the category, and so we're bringing full year U.K. revenue guidance down, reflecting that impact and recognizing that the continued soft economic backdrop will make it challenging to offset this in the remainder of the year. from: 2Q2023 earnings call
The profitability in the first half of the year also did not meet expectations, with a gross profit of £53.8 million, an adjusted EBITDA of £10.2 million, and a margin of 5.8%. This underperformance was primarily attributed to the inflation of glass costs. This is an area that I am very concerned about as over the past two years, there was a consistent and gradual increase in glass costs, with a noticeable surge starting in December 2022. In December 2022, the PPI index for glass stood at 159, and by February 2023, it had risen to 168, maintaining this elevated level consistently. Given that this trend of glass cost inflation is likely to persist into 2H23, and taking into account my reduced revenue expectations for the second half, I anticipate a decline in the adjusted EBITDA margin for FY23.
"Below revenue, as I said earlier, we are reiterating our gross margin guidance range of 31% to 33% and we expect operating expenses in the range of £88 million to £92 million, so the decrease in revenue guidance drops through to an EBITDA guidance range of £30 million to £36 million." Source: q2-2023-earnings-call-transcript.
Aside from the company's poor financial performance, I also have reservations about its ability to handle inventory, distribution, and sales channels in Australia. The company has departed from its usual practice of relying on a distributor to bring in its products to Australia. Instead, they've chosen to bring distribution, sales, and marketing operations in-house. As part of this transition, they've repurchased inventory from their previous distributor. Looking at historical data, ROW's year-over-year revenue growth has consistently shown weakness, dropping to 1% from its peak of 2.7% in 2019. This strategic shift raises concerns about their competence in managing the Australian market, and I anticipate that ROW's growth prospects may suffer as a result of their limited experience in distributing within the country.
Valuation and risk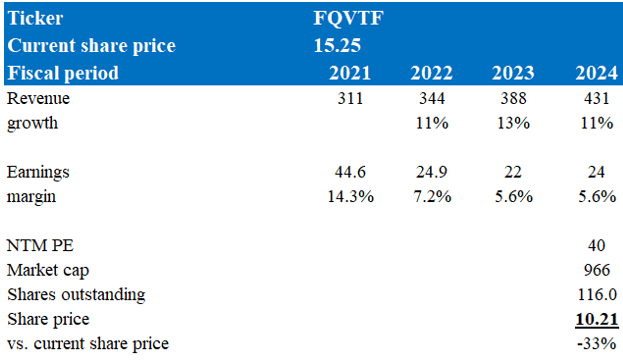 According to my model, FQVTF is valued $10.21, representing a 33% decrease. This target price is derived from my growth forecast of 11% for FY24. This growth projection reflects the lackluster sales performance observed in the second quarter, where all markets except the US exhibited low single-digit growth, with the Rest of the World [ROW] segment experiencing a significant negative decline of 9%. Furthermore, I anticipate that the economic environment will remain weak due to persistent inflation. Additionally, the escalating inflation in glass costs is putting further pressure on profit margins.
Currently, FQVTF is trading at a forward PE ratio of 44x, significantly higher than its peers like Coca-Cola and Davide Campari, which have a median forward P/E ratio of 14.67x. This notable premium in valuation, despite FQVTF's lower EBITDA margin of 10.57% compared to the peers' median of 19.88%, can be attributed to its higher expected NTM growth rate of 20% as opposed to the peers' median growth rate of 10%. Given the weak financial performance and the poor anticipated outlook, I expect these valuation multiples to contract. In FY24, I expect FQVTF to trade at a forward PE of 40x which is the lower end of its valuation history.
Risk
FQVTF may face challenges from additional commodity cost pressures and potential constraints on its ability to maintain and expand its gross margins. If glass cost inflation is worse than expected, it will compress margins even further. Additionally, should there be a deceleration in crucial growth markets such as the US, and if other markets continue to worsen due to macroeconomic uncertainties and persistent adverse weather conditions in the UK, this would lead to weaker revenue growth.
Upside risk includes stronger-than-anticipated improvement in glass cost inflation, which could contribute to margin recovery. Secondly, if the weather in the UK were to recover and persist longer than projected, it will drive revenue growth. Lastly, the success of their in-house Australia operation has the potential to lead to higher revenue growth and improved margins. This success would stem from their ability to oversee and manage aspects such as pricing, inventory levels, production, distribution channels, and marketing expenses.
Summary
I recommend a sell rating as the fundamentals have been weak and I expect things to get tougher in the coming year. The adverse impact of unfavorable weather conditions, economic challenges AND managing its own operation in Australia raises concerns about FQVTF's ability to maintain growth. Moreover, the company's valuation is expensive when compared to peers. I expect a downward revision in valuation driven by lackluster sales performance and persistent inflationary pressures.
Editor's Note: This article discusses one or more securities that do not trade on a major U.S. exchange. Please be aware of the risks associated with these stocks.