Big investors may be taking the money and running when it comes to some, though not all, heavyweight technology-related stocks right now, with Apple Inc. and Tesla Inc. topping a Jefferies list of the most underowned stocks right now.
The S&P 500 index

has nearly made up for a 19% loss in 2022, with a 15% gain so far this year. That's been driven by tech stocks, with the Nasdaq Composite

up 30% to date in 2023, versus a 33% loss in 2022. But the Nasdaq recently capped its worst two-week stretch since December, weighed down in part by rising bond yields.
Up 36% for 2023 so far, Apple
AAPL
topped this Jefferies list published Wednesday of the top 20 stocks owned by U.S. long-only funds, followed by EV leader Tesla
TSLA
:
Apple is up 36% since the start of the year, while Tesla has climbed 89%. Both have more than recouped 2022's losses. Warren Buffett's Berkshire Hathaway
BRK
BRK
ranked as the No. 5 most underowned company on the Jefferies list.
Jefferies offered a separate breakdown for the most underowned stocks among global hedge funds. They source that information MSCI Hedge Platform, a database that collects holdings data of hedge funds directly from administrations rather than quarterly 13F filings. Tesla and Apple were again at the top, along with Ford
F
and Exxon
XOM
: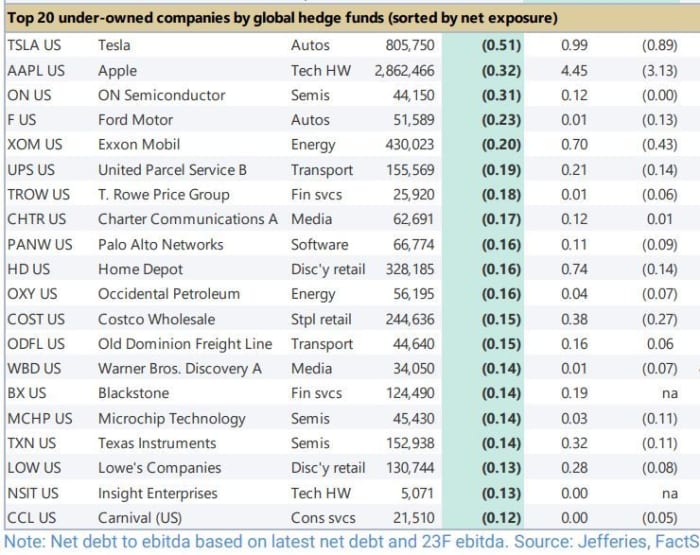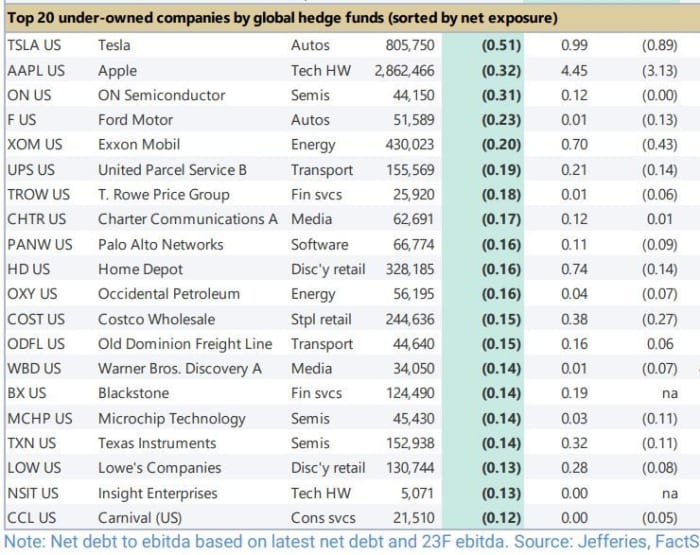 As for overowned stocks, Alphabet
GOOGL
GOOG
and Meta Platforms
META
were at the top of a list of 20 names held by U.S. long-only funds, with Netflix
NFLX
also in the top five. Meta has surged 150% this year, while Alphabet has gained 47% and Netflix 43%.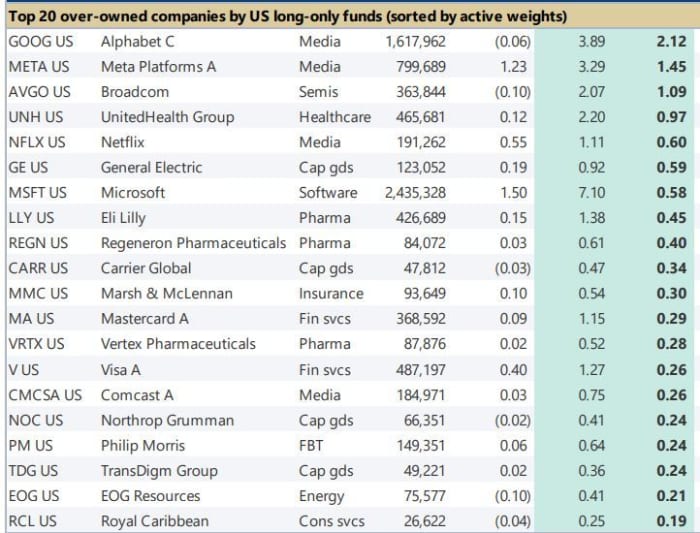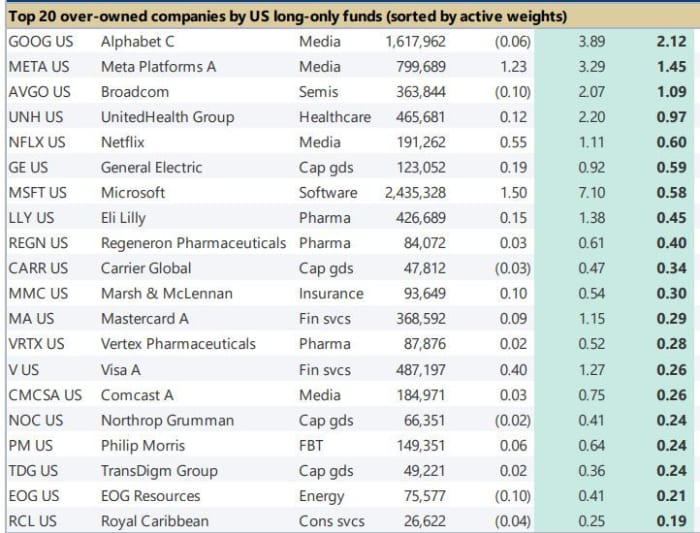 Among global hedge funds, Microsoft
MSFT,
Meta and Nvidia
NVDA
were the top three overowned names, followed by Amazon.com
AMZN
and Activision Blizzard
ATVI.
Nvidia stands out in that group with a gain of 200% this year, amid a clamor for artificial-intelligence-related holdings.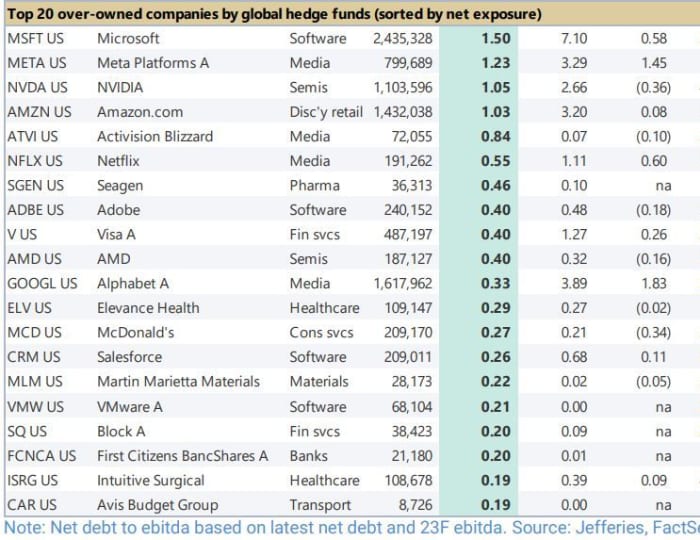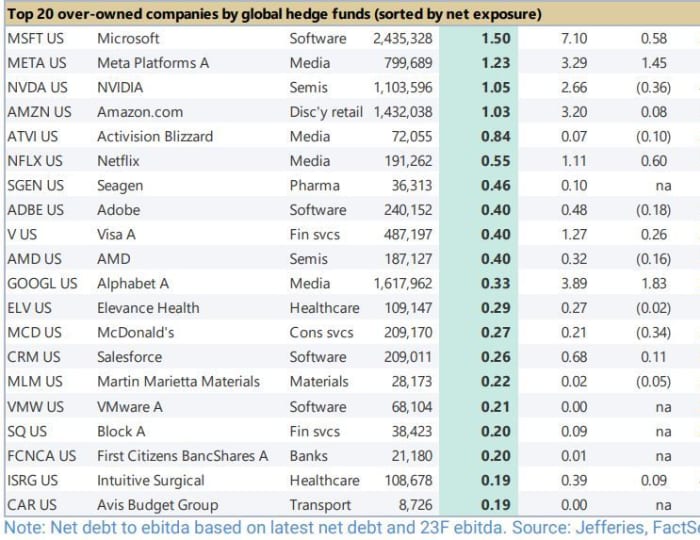 For those investors growing wary of sticking with tech stocks, and maybe feeling that it's time to cash in on their recent winnings, Bank of America's August global fund managers' report revealed that a bullish position in tech stocks was the most crowded trade for a fifth straight month: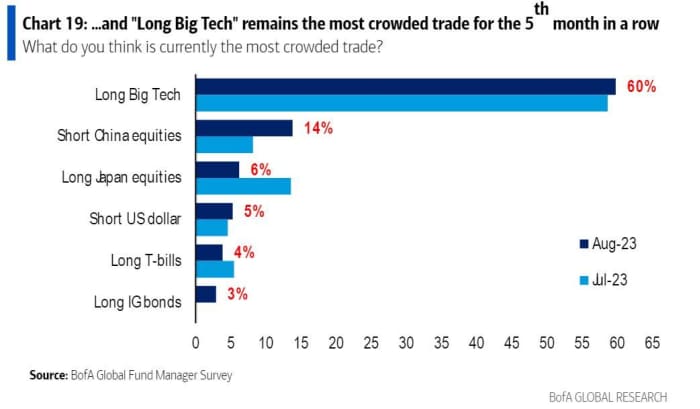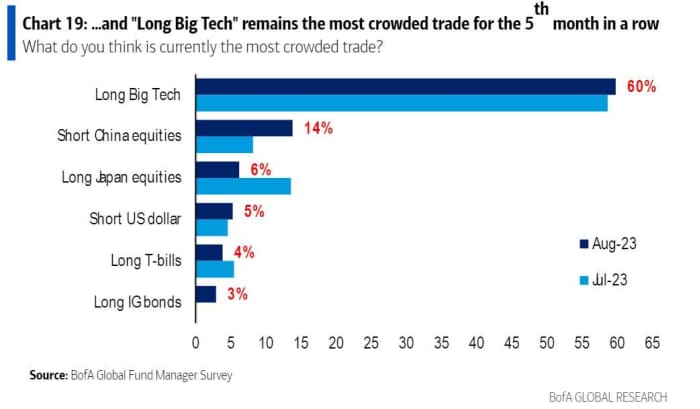 That report also revealed that fund managers are the least bearish they've been in over a year, viewed as a contrarian indicator for investors.
Read on: Here are the stocks to buy and the ones to sell if interest rates stay high, says Jefferies