Old Turkey, a trading room regular, remained patient when others sold their stocks during market uptrends, as Jesse Livermore described in Reminiscences of a Stock Operator. When asked why he wouldn't take profits, he would simply answer: "it's a bull market."
It's that simple. Stocks rise during bull markets.
Indeed, this may be the most hated bull market I've ever experienced. It certainly defies historical precedence, since a big part of the advance has come as the Fed raises interest rates. But to question why it's rising brings no real answer other than: "it's a bull market."
So why is the market going up? At its core, the reason is that more money is coming into stocks than going out. Certainly, we can get into the weeds. But in the end, it wouldn't change anything. So, as far as I'm concerned, that's good enough, until it's not.
Yes. This bull market will end someday. It could end tomorrow. As a result, vigilance is crucial. Yet, it pays to focus on the moment and trade what you see.
So, if stocks are rising, especially when the advance is supported by bullish technical indicators, then focus on being long stocks, until proven otherwise.
QQQ Recovers; Oil Service and Explorations Stocks Poised for Higher Highs
The best thing about this bull market is its short memory. That's because, unlike humans, algos only trade what's happening today.
Just a week ago, the technology sector was on the verge of a meltdown as Taiwan Semiconductor (TSM) delivered a litany of bad news. Fast forward a few days and the Invesco QQQ Trust (QQQ), home to Microsoft (MSFT), Alphabet (GOOGL), and the rest of the big tech pack, is once again knocking on the door of a breakout.
Certainly, the better-than-expected earnings news from Meta (META) and the retracement of bond yields helped. Of some concern, however, is the action evident in the Accumulation/Distribution (ADI) and On Balance Volume (OBV) indicators for QQQ. Both lines seem to have topped out, indicating that short sellers (ADI) are once again making downside bets, while long investors (OBV) are taking some profits.
QQQ has support at its 20- and 50-day moving averages. A breakout, especially one which is confirmed by improvement in ADI and OBV, would nullify any concerns in the short term.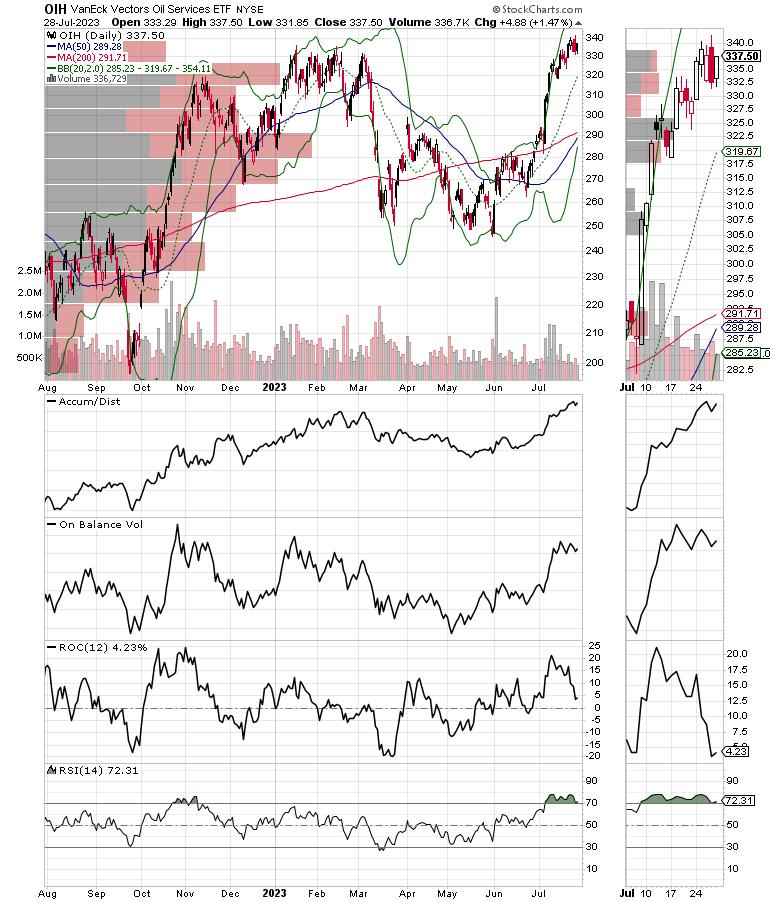 A somewhat similar technical picture is developing on the oil service sector, as in the Van Eck Vectors Oil Service ETF (OIH). As with QQQ, ADI and OBV may be forming short-term tops. The good news is that, in the case of OIH, both indicators have not rolled over to the same degree as what we saw in QQQ.
Even better is the large VBP bar on the OIH chart near the $320 area, which is also near the 20-day moving average. The combination of both the VBP bar and the 20-day moving average offers doubly strong support.
Finally, the oil and exploration sector has been in a quiet bull market for the past few weeks. As oil producers have reduced production, they are still looking for new reserves. Most recently, there have been major finds in Africa and South America. And that's where the bullish tone for oil exploration is coming from.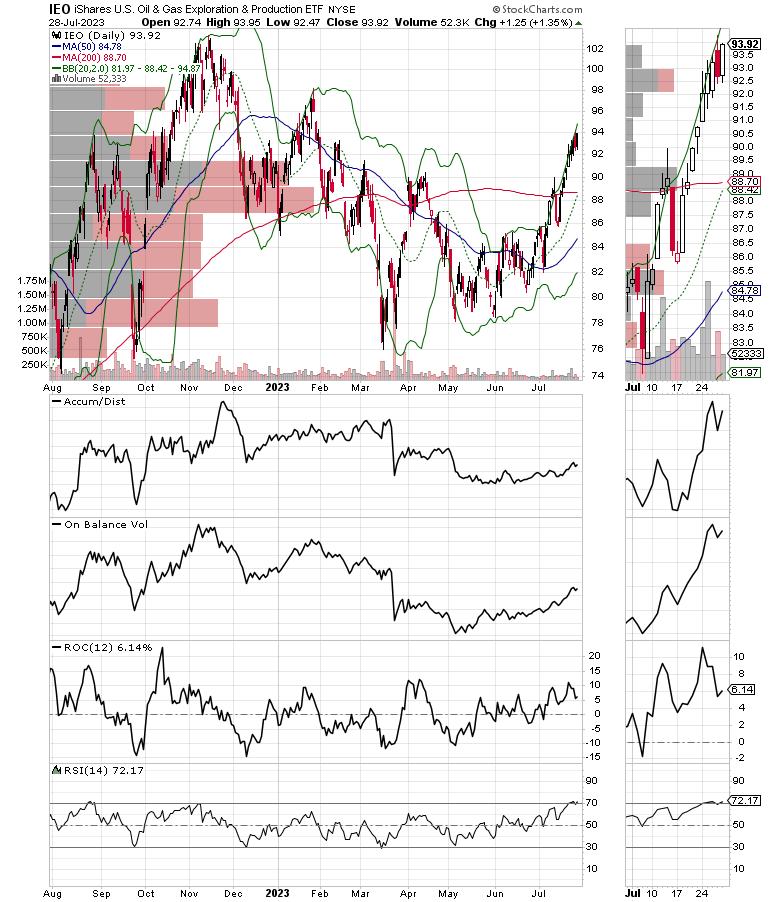 The iShares U.S. Oil & Gas Exploration & Production ETF (IEO) is currently in a well-established uptrend. With excellent-looking VBP support combined with the 200-day moving average, even a pullback has a better-than-even chance of providing a great dip on which to buy shares.
Note that OBV is rising faster than ADI. That's a very bullish sign as real buyers are starting to overwhelm the few short sellers that are left in the sector.
So, is it time to sell the tech rally? What should you do with your energy holdings?
The model portfolios at Joe Duarte in the Money Options.com, updated weekly, and via Flash Alerts as needed, are full of tech and energy stocks which are in bullish uptrends. You can have a look all of them and my latest recommendations on what to do with each individual pick FREE with a two week trial subscription. And for an in-depth review of the current situation in the oil market, click here.
Bonds Roil Stocks, Yields Remain Below Key Levels
Bond traders, responding to helter-skelter economic data and central bank rate hikes, continue to roil the stock market. Yet, the tech stocks, despite last week's debacle on bad earnings from Taiwan Semiconductors (TSM), recovered and look poised to move higher. Meanwhile, the bullish developments in the oil patch continue.
As I've noted here multiple times, the bond market's influence on the general trend for stocks matters quite a bit. In fact, I recently noted this in a Flash Alert to Joe Duarte in the Money Options subscribers and members of my Buy Me a Coffee page prior to the central bank's most recent rate hike.
In that note, I wrote: "If TNX rises and closes above the 4% yield in response to the Fed's actions, it is likely to trigger some serious selling in the homebuilders and the REITs," while adding "in order to make prudent investment decisions, it's important to watch what the bond market does and what the homebuilders, along with focused REITs, do when the Fed makes its move."
After the Fed, bond traders were further spooked at the latest signs of a steady economy. GDP was revised higher, while pending home sales rose slightly on a month-to-month basis, still remaining nearly 16% below last year's levels. Meanwhile, the recent climb in jobless claims may have stalled, signaling a stable jobs market. Together, these signs make bond traders jittery as they could rekindle inflation. But by week's end, the flattening of the Fed's Personal Consumption gauge, the PCE, was enough to push yields below 4%.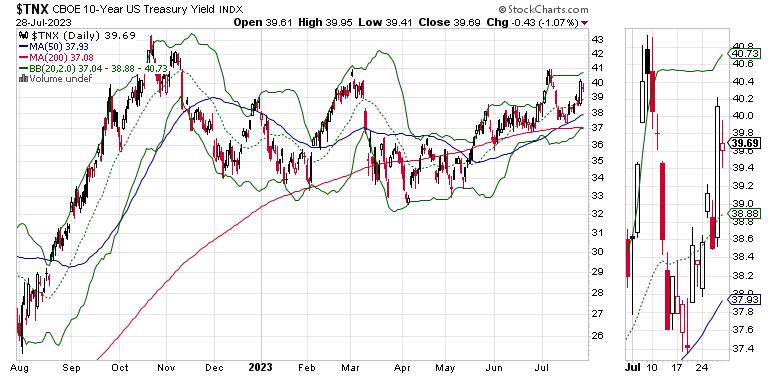 The take-home message remains the same. Steady bond yields will keep stocks in a bullish trend. 
NYAD Retains Bullish Posture
The long-term trend for stocks remains up. The New York Stock Exchange Advance Decline line (NYAD) is within striking range of another new high and remains above its 50- and 200-day moving averages.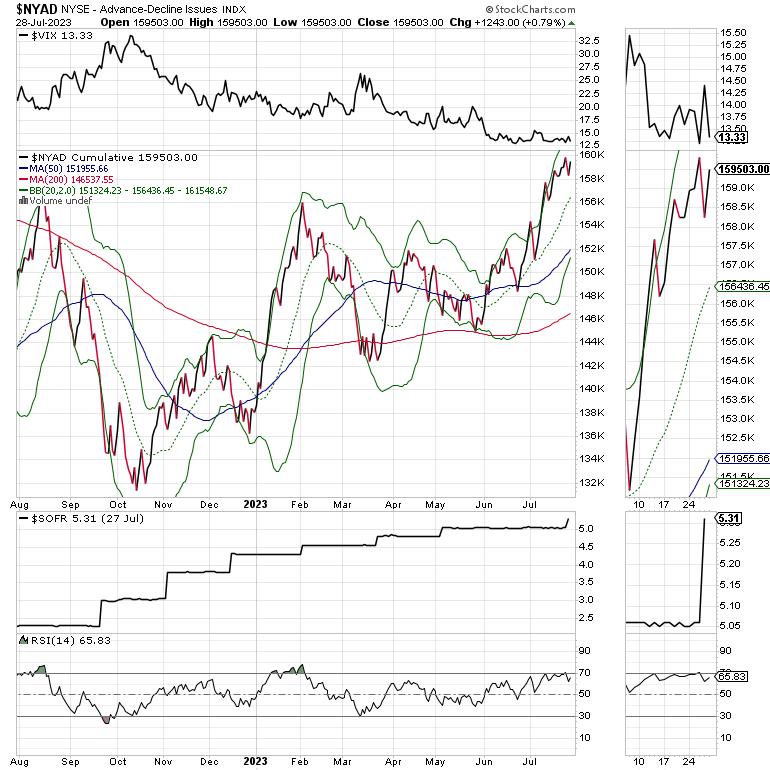 The Nasdaq 100 Index (NDX) is showing signs of recovery after what may have been a short-term consolidation. NDX found support at its 20-day moving average, while ADI and OBV have carved short-term bottoms, suggesting money flows are once again positive into tech. Support remains at 15,250 and the 20-day moving average.
The S&P 500 (SPX) is slightly overbought as RSI is hovering near 70. Both ADI and OBV are showing signs of recovery. Support is around the 4500 area.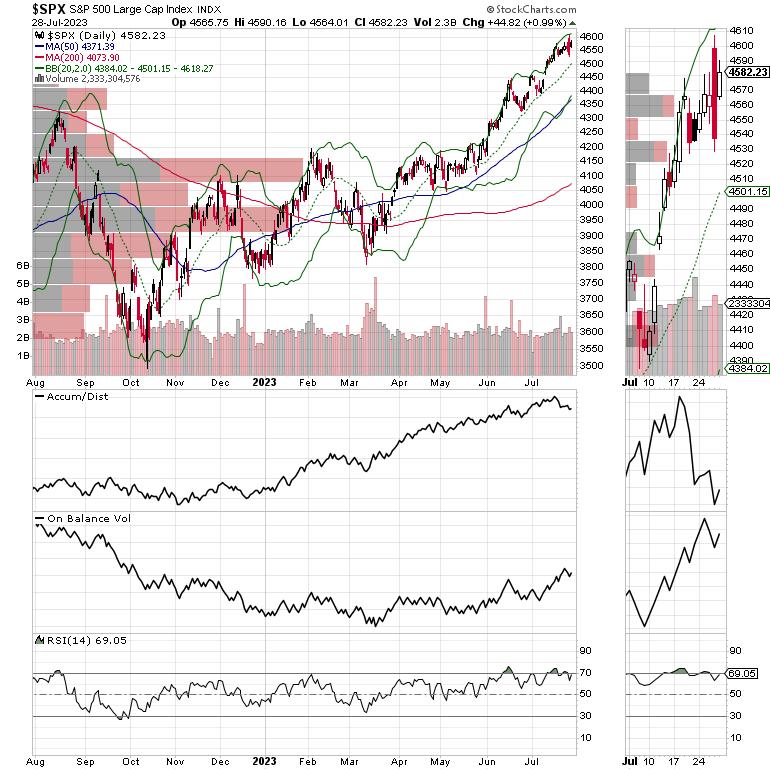 VIX Holds Steady
I've been expecting a move higher in VIX, but it hasn't materialized. When this happens, it usually leads to stable-to-higher stock prices.  The key is whether VIX can rise above the 15 level convincingly. So far, it has not.
When the VIX rises, stocks tend to fall, as rising put volume is a sign that market makers are selling stock index futures to hedge their put sales to the public. A fall in VIX is bullish, as it means less put option buying, and it eventually leads to call buying, which causes market makers to hedge by buying stock index futures. This raises the odds of higher stock prices.
Liquidity Remains Stable
Liquidity is remarkably stable after the Fed raised rates. The Secured Overnight Financing Rate (SOFR), which recently replaced the Eurodollar Index (XED), but is an approximate sign of the market's liquidity, just broke to a new high in response to the Fed's move. A move below 5.0 would be more bullish. A move above 5.5% would signal that monetary conditions are tightening beyond the Fed's intentions; that would be very bearish.
---
To get the latest information on options trading, check out Options Trading for Dummies, now in its 4th Edition—Get Your Copy Now! Now also available in Audible audiobook format!
#1 New Release on Options Trading!
Good news! I've made my NYAD-Complexity – Chaos chart (featured on my YD5 videos) and a few other favorites public. You can find them here.
Joe Duarte
In The Money Options
---
Joe Duarte is a former money manager, an active trader, and a widely recognized independent stock market analyst since 1987. He is author of eight investment books, including the best-selling Trading Options for Dummies, rated a TOP Options Book for 2018 by Benzinga.com and now in its third edition, plus The Everything Investing in Your 20s and 30s Book and six other trading books.
The Everything Investing in Your 20s and 30s Book is available at Amazon and Barnes and Noble. It has also been recommended as a Washington Post Color of Money Book of the Month.
To receive Joe's exclusive stock, option and ETF recommendations, in your mailbox every week visit https://joeduarteinthemoneyoptions.com/secure/order_email.asp.