For today, I used ChatGPT to ask which companies store raw materials. After all, you cannot have capital investing in infrastructure without raw materials. You cannot have geopolitical issues without concerns about oil and energy. You cannot have weather issues without worrying about supply and supply chain.
How do we make stuff without stuff?
The charts are of copper, through the COPX ETF, and agricultural, soft commodities, through the DBA ETF. The interesting feature is that both are still underperforming the SPY. Both are in bullish phases, and both have lots of upside as they are above the July 6-month calendar ranges.
Here is a list of the types of companies that store raw materials.
Agriculture and Food Processing Companies: Companies in the agricultural and food processing sectors store raw materials such as crops, grains, fruits, vegetables, livestock, and seafood. These raw materials are used to produce various food products.
Mining Companies: Mining companies extract raw materials such as minerals, metals, coal, and oil from the earth. These companies often have storage facilities to hold the extracted raw materials before further processing or distribution.
Oil and Gas Companies: Companies involved in the exploration, production, and refining of oil and gas typically have storage facilities for crude oil, natural gas, and refined petroleum products.
Warehousing and Distribution Companies: Warehouses and distribution centers play a crucial role in storing raw materials for various industries. They may handle and store a wide range of raw materials, including chemicals, textiles, electronics components, and more.
Commodity Traders and Exchanges: Commodity traders and exchanges facilitate the trading of raw materials, including agricultural products, metals, energy resources, and other commodities. They may have storage facilities to store these materials until they are bought or sold.
Construction Companies: Construction companies often store raw materials such as lumber, cement, bricks, steel, and other building materials at construction sites or in dedicated storage yards.
First one we featured was on Monday, International Paper (IP). At the time of writing, IP was challenging the July calendar range. Today, IP cleared up 5% on the day.
Other companies to watch are:
Glencore (GLEN.L): Commodity trading and mining company that stores metals, minerals, and energy products.
Billiton Limited (BHP): Iron ore, coal, copper, nickel, and manganese.
Amazon (AMZN): They store a wide range of raw materials and products for various industries
ExxonMobil (XOM): Stores crude oil, natural gas, and refined petroleum products.
Dow Chemicals (DOW): Stores chemicals, plastics, and specialty materials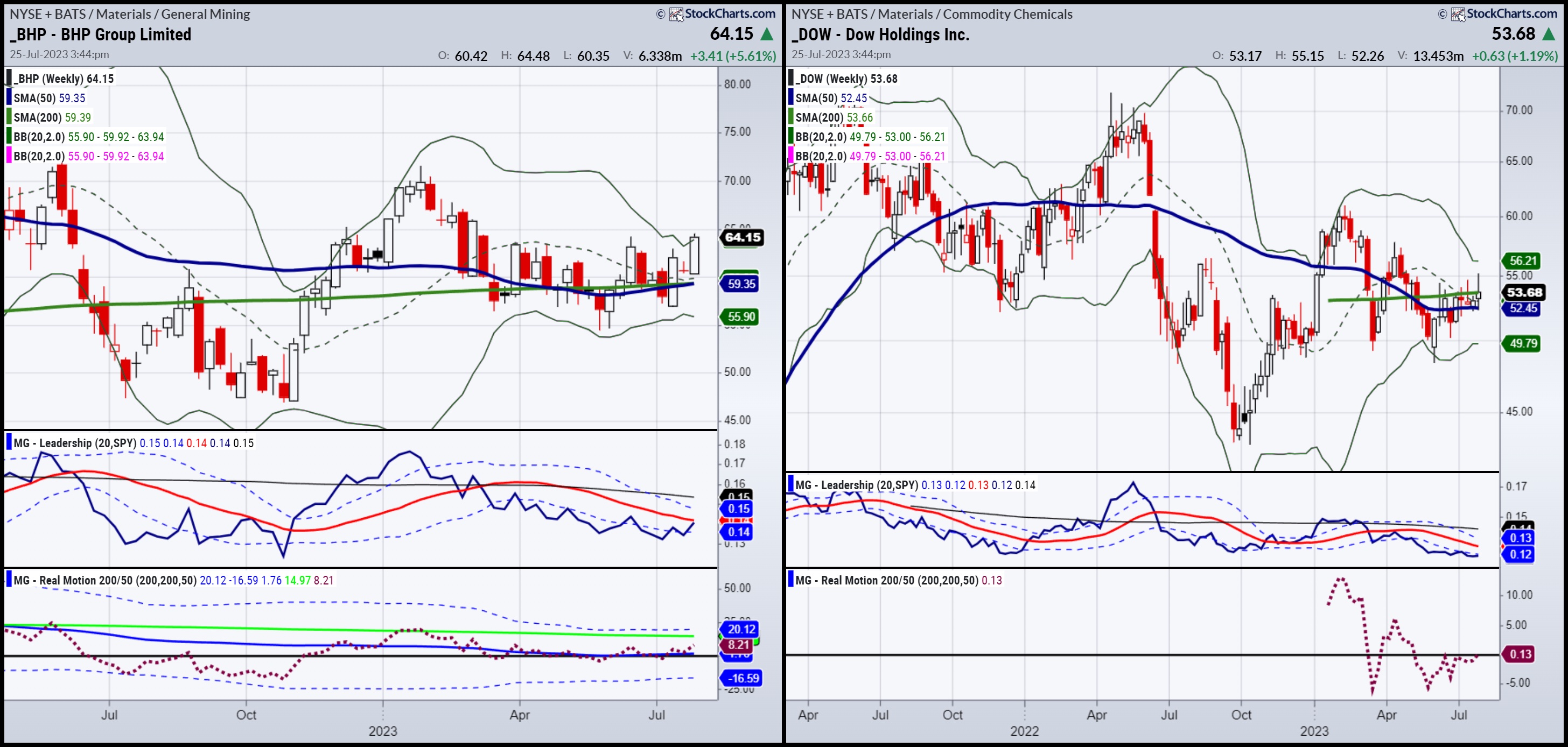 The charts of BHP and DOW have similar setups. Both are still underperforming the benchmark. Both have potential momentum building.
Most importantly, both look like investment opportunities if the theory of buying store houses for raw materials makes sense to you.
---
For more detailed trading information about our blended models, tools and trader education courses, contact Rob Quinn, our Chief Strategy Consultant, to learn more.

"I grew my money tree and so can you!" – Mish Schneider
Get your copy of Plant Your Money Tree: A Guide to Growing Your Wealth and a special bonus here.
Follow Mish on Twitter @marketminute for stock picks and more. Follow Mish on Instagram (mishschneider) for daily morning videos. To see updated media clips, click here.
---
Mish talks PCE inflation picks in this video from Business First AM.
Mish covers gold, oil, grains and the SPX — all actionable — in this video from CMC Markets.
Mish discusses recession, inflation, and AI picks on the open with BNN Bloomberg.
Mish and Angela Miles discuss the next moves for your money on Business First AM.
Mish talks her approach to being a professional trader in this Options Insight interview with Imran Lakha.
Nicole Petallides and Mish discuss crypto, basic materials, inflation and gold in this appearance on TD Ameritrade.
Mish and Ash Bennington cover a lot in this video from Real Vision, discussing everything from the Fed, to inflation, to the incredible move in stocks and what is next.
Mish talks day-trading tactics, currency pairs, gold, oil, and sugar futures in this video from CMC Markets.
Mish and Angie Miles talk tech, small caps and one new stock in this appearance on Business First AM.
Mish examines the old adage "Don't Fight the Fed" in this interview on Business First AM.
Mish and Charles Payne talk the Fed, CPI, Inflation, yields, bonds and sectors she likes on Fox Business' Making Money with Charles Payne.
Mish, Brad Smith and Diane King Hall discuss and project on topics like earnings, inflation, yield curve and market direction in this appearance on Yahoo Finance.
---
Coming Up:
July 26:Your Daily Five, StockCharts TV
July 27: Live Coaching
July 28: IBD Live
---
S&P 500 (SPY): 452 July calendar range high now support.
Russell 2000 (IWM): 193 is the 23-month holy grail.
Dow (DIA): 35,000 support.
Nasdaq (QQQ): Under its 6-month calendar range high, already showing signs of stress.
Regional banks (KRE): Consolidating over its July calendar highs, positive.
Semiconductors (SMH): Holds here okay; needs to clear 161 and under 147 trouble.
Transportation (IYT): Right on the July calendar range high.
Biotechnology (IBB): 128 support now to hold.
Retail (XRT): Never cleared the July calendar range high-now, 66 is key support.
Mish Schneider
MarketGauge.com
Director of Trading Research and Education
About the author:
Mish Schneider
serves as Director of Trading Education at MarketGauge.com. For nearly 20 years, MarketGauge.com has provided financial information and education to thousands of individuals, as well as to large financial institutions and publications such as Barron's, Fidelity, ILX Systems, Thomson Reuters and Bank of America. In 2017, MarketWatch, owned by Dow Jones, named Mish one of the top 50 financial people to follow on Twitter. In 2018, Mish was the winner of the Top Stock Pick of the year for RealVision.