Thesis
The John Hancock Hedged Equity & Income Fund (HEQ) is an equity closed end fund. The vehicle has capital appreciation and current income as its main objectives, and falls in the global equities allocation bucket. The fund has the ability to overlay covered calls, and it has done so in the past, but not in a systematic fashion.
Its historical performance is very weak when compared to vanilla ETFs and a global equities CEF from Eaton Vance: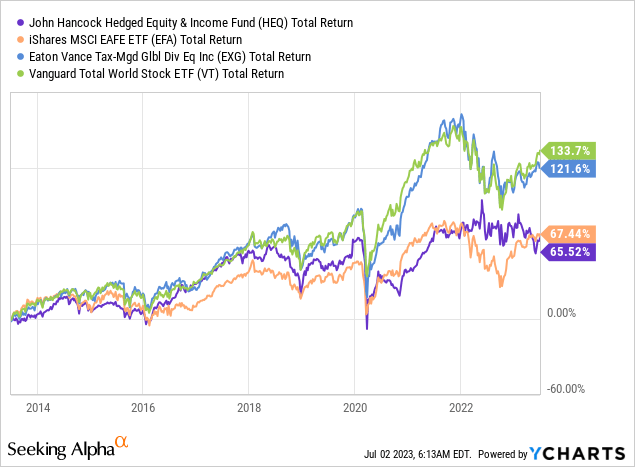 On the flip side, HEQ sets itself as being benchmarked against the MSCI AC World Index, which is best tracked by the iShares MSCI EAFE ETF (EFA), which has done only slightly better than HEQ. Funds with a global tilt but skewed towards the U.S. have fared significantly better, especially recently due to the U.S. tech mega-caps allocations.
As a reminder, equity CEFs simply convert equity market returns into dividend distributions. To the extent there is no positive fundamental performance in the underlying portfolio, the CEF will just use ROC to fund its distribution, which is NAV destructive: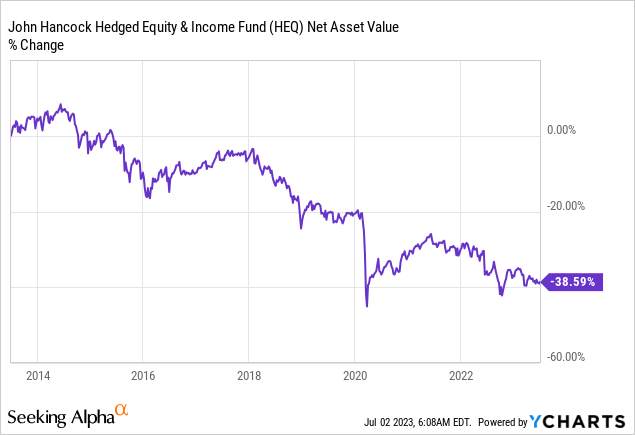 We can see that HEQ is used to overdistributing. Very well run equity CEFs will have a stable NAV throughout time, punctuated by dips correlated to recessions, but the NAV retraces upwards after. Not here. HEQ displays a nice lower trending NAV, which means it has consistently overdistributed through time. The fund currently has a 11% stated dividend yield, but it is unsupported, which has lead management to a fresh distribution cut:
BOSTON, June 30, 2023 /PRNewswire/ – The John Hancock Hedged Equity & Income Fund (NYSE: HEQ) (the "Fund"), a closed-end fund managed by John Hancock Investment Management LLC (the "Adviser") and sub-advised by Wellington Management Company LLP (the "Sub-adviser"), announced today that its Board of Trustees voted to amend its current managed distribution plan (the "Plan"), decreasing the amount of its quarterly distribution by 14 percent.

Under the Plan, the Fund will make quarterly distributions of an amount equal to $0.2500 per share, a decrease from the previous quarterly distribution of $0.2900 per share. This new amount will be paid quarterly until further notice.

Pursuant to its Plan, the Fund declared its quarterly distribution today as follows: Declaration Date: June 30, 2023, Ex Date: September 08, 2023, Record Date: September 11, 2023, Payment Date: September 29, 2023

This new distribution amount equates to an annualized distribution rate of 8.78% based on the Fund's NAV of $11.39 and 9.42% based on the closing share price of $10.62 as of June 29, 2023.
A distribution cut is the right thing to do in our opinion given the lack of performance from the underlying assets. The more you overdistribute the less likely you will be able to 'catch-up' to the overall indices when the market enters a bull run.
The fund is currently trading at a small -6% discount to NAV, which we feel is very much warranted: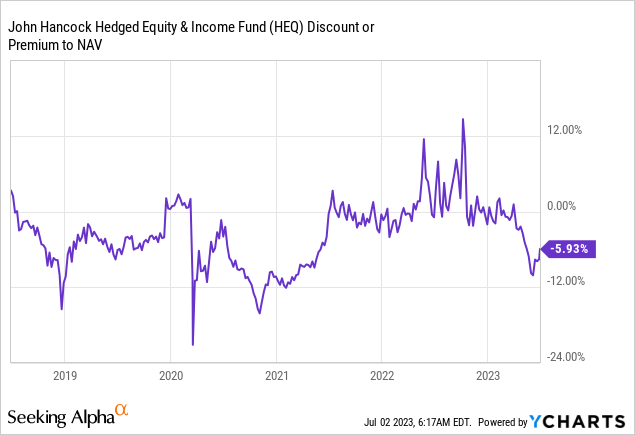 We are not in love with the MSCI AC World Index because it is underweight large tech mega-caps which have driven equity rallies in the past year. Furthermore we do not like how HEQ is overweight Financials, a cyclical sector set for weakness in a recession. The discount here is justified and might get wider.
We believe the distribution cut was already priced in the HEQ pricing, so no further reason to adjust positioning here. If you are already holding this name, continue to Hold into a new bull market to divest. New investors should look elsewhere however since HEQ does not exhibit the risk/reward analytics necessary for a robust global equities CEF.
Holdings
The fund contains a global equities portfolio: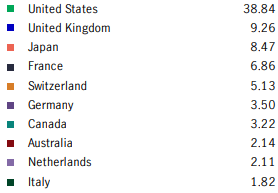 While the U.S. has the highest weighting here, the fund's portfolio is indeed global and diversified. From an individual name standpoint the vehicle's top holdings are mainly composed of large cap multi-nationals:

The fund is granular, with none of the holdings accounting for more than 2% of the fund. While this feature makes it a nice diversified fund, this year has worked against diversified builds, with most of the gains so far concentrated on a handful of Tech mega-caps.
Another building feature to notice is the fact that the CEF has a value tilt, and is overweight cyclicals via its large Financials bucket: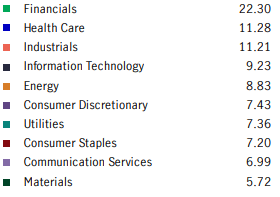 Financials make up more than 22% of the fund here, and they have worked against this name in 2023 on the back of the regional banks crisis.
The fund also has the ability to enter into covered calls, as an overlay strategy, and while it has done so (as seen from its Annual Reports), it does not provide any details on the current coverage via the fact sheet.
Conclusion
HEQ is a global equities CEF. The fund aims to track the MSCI AC World Index and has capital appreciation and income as its goals. The fund has a 11% stated dividend yield which is not supported. The CEF has just announced a -14% reduction in its distribution in order to utilize less ROC. Historically this name is very weak, being used to overdistribution, as reflected in its -38% NAV loss in the past decade. The fund's composition is overweight financials, which we do not like, and underweight tech mega-caps. We are not fans of this name and consider it a very weak equity CEF. If you already own the name, Hold until a new bull market is established to divest, while new investors would do well to look at the likes of EXG in the global equity CEF space.