Most commercial real estate construction in the U.S. is showing signs of slowing as elevated interest rates continue to put the clamps on available capital.
However, manufacturing facilities construction is a notable exception – with spending levels in the property sector more than double what they were a year ago.
The surge in onshore manufacturing construction gives investors an important look into the state of globalization and highlights the most appealing potential opportunities within real estate today.
Construction spending on commercial real estate in the U.S.
Construction Put in Place (c30), billions, SAAR, 1993–present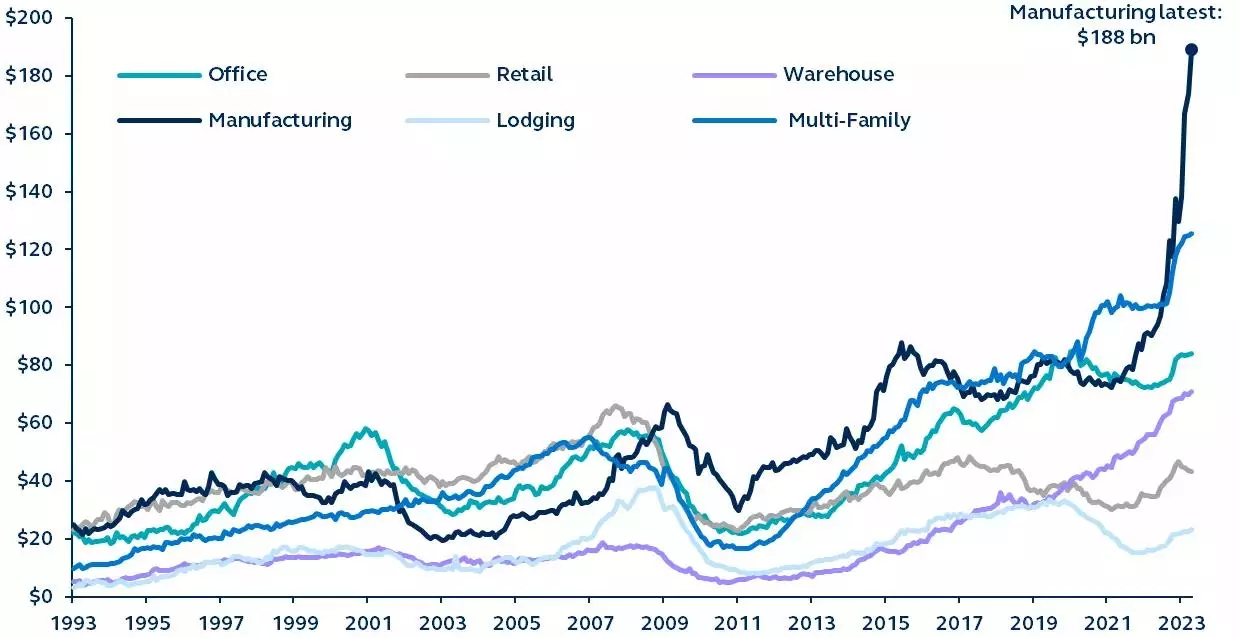 Source: U.S. Census Bureau, Construction Spending, Principal Real Estate. Data as of June 1, 2023.
Despite a U.S. economic landscape that includes higher interest rates, regional bank failures, and constrained capital available for real estate transactions, private spending on manufacturing facilities is surging.
In April, construction put in place for manufacturing facilities increased by 8.7% over its March figure, and is up 104.6% in the last year. At the same time, construction spending across other property sectors rose just 0.7% last month (23.5% year-over-year) and appears to be slowing.1
Although the lead time associated with planning and development means that construction is a lagging commercial real estate indicator, the surge in current construction spending on manufacturing provides an important read on the state of globalization.
While globalization isn't dead, there seems to be a shift in the mindset of U.S. companies that now intend to increase the domestic production of goods that had previously been produced offshore.
Additionally, the emerging trend in capital flows toward constructing new manufacturing plants is a crucial step in modernizing the domestic supply chain.
For investors, the growth in onshore spending creates investment opportunities across equity and debt within the real estate sector. In particular, investments in industrial manufacturing facilities and warehouses, that enable the flow of newly produced domestic goods, will hold increased appeal. A renaissance in U.S. manufacturing may be on the horizon.
1 Other property sectors include office, retail, warehouse, lodging, and multi-family.
Editor's Note: The summary bullets for this article were chosen by Seeking Alpha editors.