Investment Rundown
agilon health (NYSE:AGL) managed to achieve its first every quarter with over $1 billion in revenues. That represented a 74% increase for the business, growth that can be accounted for the significant membership growth they have had. As AGL dedicates itself to their physician partners it has paid off very well. As the industry is expected to see 1 in 5 doctors quitting within the next 2 years, we seem to be heading towards a serious shortage here. In times of shortage, the value that AGL offers has the potential to help with this issue as they offer a total care model that increases the annual wellness visit completion rate to 79% compared to the Medicare average of 37%.
The demand seems strong for AGL and I view their current state to be highly leverageable into capturing this growth through extended and important partnerships. The outlook of the company suggests that they might be able to reach a positive adjusted EBITDA in 2023 of up to $25 million. This would be a major improvement from years prior as 2023 would be the first year with a positive bottom line. I have strong faith that AGL will eventually reach this milestone, however, I don't like to make my investments based on projections like this. If there are hurdles along the way then profitability could be delayed, and the share price is no longer trading based on fundamentals, opening me up to a lot of risk. Therefore AGL is a hold rating for me.
Recent Developments
One of the more notable events that happened recently is that AGL announced a secondary public offering of 70.000.000 shares of its common stock as a sale by stockholder CD&R Vector Holdings, L.P. The selling stockholder is anticipated to grant the underwriters a 30-day option to purchase up to an additional 10.5 million shares of common stock. AGL will not be receiving any proceeds from this secondary offering.
Apart from the news of the secondary offering, AGL is also announcing a plan to repurchase $200 million worth of shares, which would equate to around 11 million shares. This would mean a reduction of outstanding shares of about 2.7%. The repurchase will be funded by cash that AGL has on hand. Using all of the cash would mean they reduce their cash position by over 50%. However with a negative net debt of $764 million, I don't see an adequate concern here, AGL remains in a solid position financially even after the purchase of the shares.
Margins
One of the key reasons I am not rating AGL a buy at these prices is the negative margins, even if the estimates suggest them being positive in 2024, or even 2023 if the guidance the company has comes true and they achieve the higher end of it.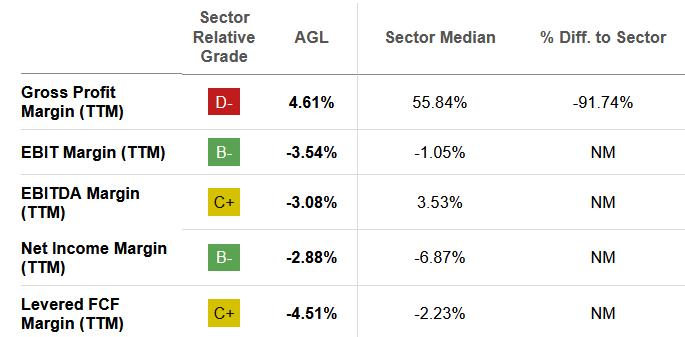 The margins of the business remain in strong need of improvements. Without it, the share price isn't necessarily trading based on fundamentals. Hurdles along the way could very well cause significant share price declines to reflect the additional risk that is presented to investors. If the estimates for AGL come true and they in 2024 reaches an EPS of $0.2 and revenues of $5.94 billion it would equate to a net margin of around 1.3%. I think it's certainly possible but AGL will have to show they can grow memberships across the board at the higher end of its estimates. The Seeking Alpha profitability rating for AGL is a B+ which I think is a little unfair, as it takes into account the industry being riddled with unprofitable companies that drag down the average. In the current state, I think AGL doesn't present a strong profitability grade, certainly not until the bottom line is positive.
Valuation
Putting a valuation on AGL right now seems quite irresponsible as the company isn't even able to have a positive net margin. That constitutes the share price trading based on prospects and estimates, rather than actual fundamentals.
As for where I would be comfortable buying the company, it would be when the p/e is around 18 – 19. A little higher I could see happen, but that's my ideal range. Right now the time when AGL would be trading there would be in 2026 if the current share price of around 17 remains the same. I think that is a long time to wait to make investments, and this highlights some of the concerns I have with the company right now. The valuation seems rich and even if growth is happening fast, it's not fast enough to justify a buy here. Where the company does seem justifiable would be based on p/s multiples, which on an FWD basis is 1.6 as of now. Premium I would be more comfortable justifying.
Risks
The primary risk I see with AGL right now is that they won't be able to live up to the expectations of growth the market has set. The company provided guidance for 2023 in the last quarter which suggested they could achieve a positive adjusted EBITDA, which would be a major step forward and lead to a share price increase as a result of the positive news. However, I am worried slowdowns in membership growth could lead to a failure in achieving these goals.
Industry Comparison
Comparing AGL to a company like Chemed Corporation (CHE) will make AGL come out on top by a large amount. AGL hasn't seen its full potential yet and I think any company with a positive net margin would be a better buy.
But AGL is setting itself apart by high expectations of margin expansion fueled by growing memberships and further operational improvement. As for CHE, the EPS isn't expected to grow that significant YoY, at least not enough in my book to justify the p/e of 21 it currently receives on a forward basis. As for when the two companies would reach a similar valuation using the same share price as today, that would be in 2026. Until then I think that investors might be better off being in CHE and then making the shift eventually if the share price remains the same for AGL. The two companies are benefiting from largely similar tailwinds, and whilst being in CHE investors would benefit from the strong buybacks they have kept up the last few years, reducing shares by close to 8% between 2020 and 2022.
Final Words
I think that AGL is a very exciting company that will experience strong growth as the help ease the workflow for physicians and increase the completion rate for patients. Their platform is significant and has a strong reach and helps facilities reduce the cost of care as the overall quality improves. This strong performance and market satisfaction have aided in AGL being able to estimate adding 145 000 new MA members to their platform during 2024.
I think however that the lack of positive net margins opens up significant downside risk if there are delays in reaching a positive bottom line. Therefore AGL isn't currently trading based on fundamentals and I view them as a hold until further margin expansions are made.