Here are the two dividend stocks on my radar this month! Always buying stocks, no matter what is happening in the stock market. The stock market can go up and can go down, but the Dividend Diplomats are buying dividend stocks and adding to the passive income stream.
Let's review two dividend stocks hot on my radar right now!
Dividend Stock Watch List
Dividend investing happens, whether the stock market is up or down, whether the fed raises interest rates or lowers. Inflation or deflation. Banks are failing or being bailed out. Luckily, it has only been 4 banks in the US that have failed thus far, with Credit Suisse internationally. It's all about buying dividend income producing stocks – the best source of passive income source on your journey to financial freedom!
The stock market, specifically the S&P 500, is back above 4,000, yet again. The S&P 500 has Yin-Yanged all year long, as a few months ago, they were below $4,000. Now they are up 12% year to date. Just wow.
Inflation is still high. Jerome Powell has a lot of stress and work to do. Do we see a flat rate decision in June or another modest 25-basis-point increase? Less than 1 week away and things are always exciting in 2023!
Here is the S&P 500 chart below – rising just under 4,300, dropping below 3,800 at times and is now hanging out above 4,200. What a month in the stock market!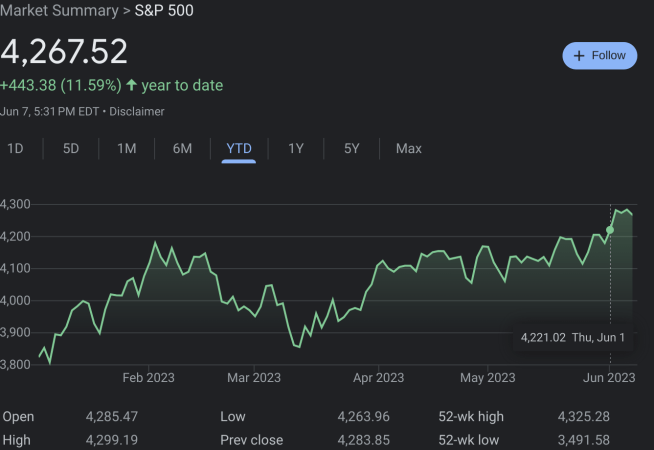 Interest rates are steadily rising on High Yield Savings Accounts, with many over 4.20%!
Given the possibility of inflation cooling, bank failures and instability within banking, the Fed may top out at 5.00-5.25% in their fight against inflation. We may have one more rate increase coming up. However, all of the interest rate increases have increased those savings rate. Ally, where I hold a significant amount of cash, is yielding 3.85%, with an 11-month no-penalty 4.25% CD. However, there is one specific Bank / Fintech application that I use so much more now…
I keep more savings in my SoFi savings account – as it earns me – now – 4.20% on my savings account.
In addition, given the uncertainty, I continue to make weekly investments into Vanguard Exchange Traded Funds (ETFs). The specific ETF my wife and I have been loading up on is Vanguard High Dividend Yield (VYM). We are investing approximately $400 to $600 per week into Vanguard (pending the VYM stock price), to stay invested in the market, during the uncertain times. In addition, I am also investing $60 per day into Vanguard S&P 500 ETF (VOO)!
Therefore, on the road to financial freedom, acquiring assets that produce cash flow or income is the goal! Like I always say, there is always a diamond in the rough. How do I find an undervalued dividend stock? Time to introduce our beloved Dividend Diplomat Stock Screener!
Dividend Diplomats Stock Screener
If you don't know already, we keep the stock screener metrics to three simple items. They are:
Price to Earnings Ratio – We look for a price to earnings ratio < than the overall Stock Market.
Payout Ratio – We aim for a payout ratio between of less than 60%.
Dividend Growth – We like to see history of dividend growth in a company.
Time to find the answer to… how did the dividend stocks on my watch list grade on the stock screener?
Dividend stock watch list
Here is the list of dividend stocks that are on my radar going into the month of June 2023. I typically like to keep it at 2-3 dividend stocks, keeping the focus locked in. Finding dividend stocks isn't easy, but there are also other factors, such as composition of my portfolio by industry (such as – am I overweight/underweight in an industry), as well as exposure to one stock and the concentration there.
There, the dividend stocks on my list cater to those other facets when building a dividend stock portfolio.
United Parcel Service (
UPS
)
I am on a pursuit to own 100 shares of United Parcel Service. Once we dig into the metrics, I'll be curious if you agree. Almost $150 billion by market capitalization, it is definitely one of the larger companies in the world.
UPS is projecting to earn between $88 billion and $100 billion in revenue, just large amounts, even during a tough year that we have all been through.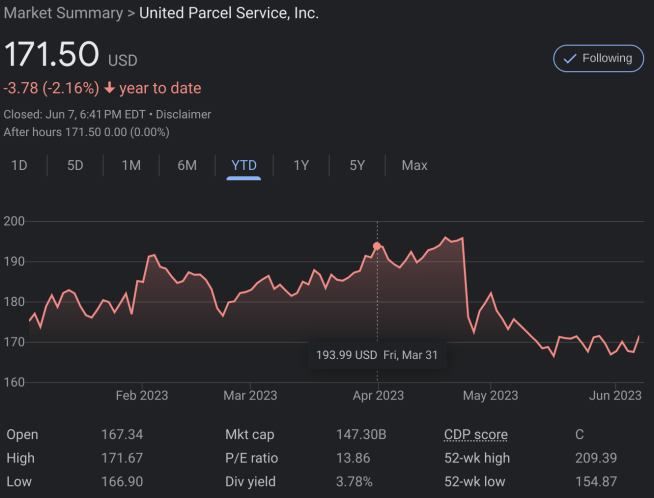 Therefore, I want to show the stats and why I do like the stock, even at current prices. I am around 15-16 shares away from 100 of UPS stock.
Therefore, let's run UPS officially through the Dividend Diplomats Stock Screener, which is focused on these 3 metrics.
Price to Earnings Ratio: Earnings is approximately $10.74 in earnings per share for 2023. Therefore, UPS is trading at ~16x forward earnings right now, very low at the moment, compared to the 24x the S&P 500 is currently priced at.
Payout Ratio: UPS' current dividend payout ratio, using that metric is actually at 60.34%. Right at the ceiling of the dividend payout ratio metric. Still safe, but dividend growth may be lower in the future.
Dividend Growth: See the 10-year chart below. All up from here. Over 13 years of growing dividends, at an average rate of almost 6.5%, not too bad. Given high inflationary times, high interest rates, tightening of consumer spending, UPS keeping this streak alive is great.

The dividend yield is closing in on 4%, currently at 3.78%. I like UPS at these prices and I was scooping up shares between $166 and $168. I'll keep adding when they drop there.
Archer-Daniels-Midland (ADM)
The dividend aristocrat makes an appearance – Archer-Daniels-Midland! Another stock that is getting into the unavoidable price where it may be right to buy this stock. If you're a long-term dividend investor, this stock offers a great combination of yield plus dividend growth, in my opinion.
ADM manages and controls facilities where cereal grains and oilseeds are processed into products used in food, beverage, nutraceutical, industrial, and animal feed markets. The market cap is almost $40 billion. Therefore, again, not a small traded entity.
Down 18% this year, this dividend aristocrat is seeing their yield pop above 2.4% and near their 52-week lows, down $25 from their 52-week highs, in fact.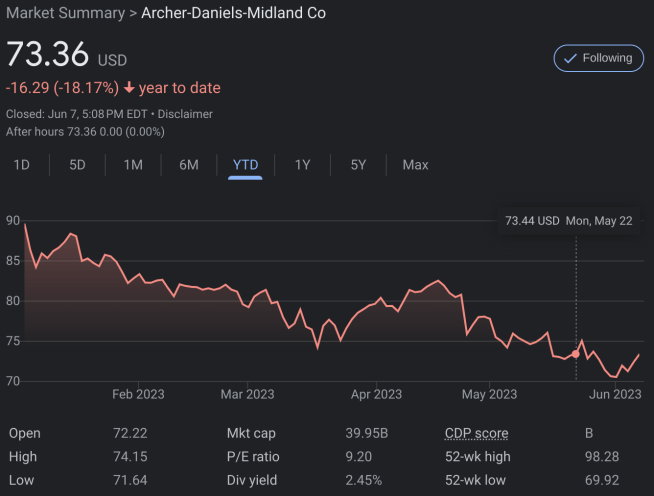 Let's run ADM through the dividend stock metrics, to see if this could be a dividend stock to buy now.
1.) P/E Ratio: ADM analysts, per Yahoo, are expecting $6.87 earnings per share. That's a Price to Earnings (P/E) ratio of only 10.7x earnings. For comparison purposes, the stock market has a P/E ratio of approximately 24x earnings at the moment. This could mean the stock is undervalued at first glance.
2.) Dividend Payout Ratio: ADM pays a quarterly dividend of $0.45 per share or $1.80 per year. This equates to a dividend payout ratio of only 27%. Amazing! You can sleep well at night with the dividend payments and expect nice dividend increases in the future, no doubt about it.
3.) Dividend Growth Rate: ADM has an incredible 48+ years of growing dividends. Knocking on the doors of being a dividend king. In addition, it has a 5.4% dividend growth rate. However, to note, its last dividend increase stood tall at 12.5%. Keep that in mind, as some companies may be slowing down their dividend growth, others are heating up like ADM!

Lastly, we'll take a look at the dividend yield. As an investor, you want to know how much owning this dividend stock pays you now! The yield for ADM is now yielding 2.45%!
Other Dividend Stocks to buy
I am also considering a few other stocks, as a quick hitter approach here. Those stocks are CVS Pharmacy (CVS), LyondellBasell (LYB) and Johnson & Johnson (JNJ). Stocks that are just beat up, no doubt.
I own each stock and am constantly evaluating the stock market, to see if there are undervalued dividend stocks to buy in this wild market.
Dividend Stock Watch List Conclusion
Dividend investing is real and is happening!
Of course, prior to making any purchase, I definitely will make sure to run them through the Dividend Diplomat Stock Screener once more.
I may have to add routinely to all 3 dividend stocks mentioned above. I think these are dividend stocks to buy in March 2023, but again – I highly encourage you do your own research as this is not financial advice (quick disclaimer!).
As always, stick to your investment strategy and dividend stocks will be there. What do you think of these stocks above? Thank you, good luck and happy investing everyone!
Editor's Note: The summary bullets for this article were chosen by Seeking Alpha editors.