Fannie Mae (OTCQB:FNMA) and Freddie Mac (OTCQB:FMCC) are two companies that have been in conservatorship since 2008. The conservatorship is run by the Federal Housing Finance Agency (FHFA) who is currently directed by Sandra Thompson who was preceded by Mark Calabria. Mark Calabria helped draft HERA which converted the OFHEO into the FHFA. So, it is correct to say that he wrote the law that brought into existence the agency that he was put in charge of during the Trump administration. Further, before being put in as head of FHFA, he wrote a white paper on his view that the net worth sweep was illegal. The Supreme Court proceeded to not only disagree with him, not only ruling that the net worth sweep was legal but also that he could be fired as FHFA is not an independent agency but serves at the direction of the president, making FHFA director a political appointee position.
Mark Calabria recently published a book entitled Shelter From The Storm that is a hero's story that walks the reader through all of his learning experiences along the way and gives various insights into his approach and musings. This book offers investors a peak behind the curtain.
Investment Thesis
By process of elimination the conservatorships have three paths forward:
Never ending conservatorships
Conservatorships that end in receivership
Conservatorships that end with the companies adequately capitalized and a return of private capital that protects taxpayers
The actions taken by Mnuchin and Calabria eliminated option 1 and effectively eliminated option 2 from the agenda and charted the course for option 3. I say effectively eliminated option 2 because the only way receivership is a realistic possibility at this point is Yellowstone erupts or an asteroid hits the United States and wipes out a 200+ mile radius in my view. In Calabria's view the greatest threat would be significant sea level rise through Global Warming. Absent life altering climate events, this leaves option 3 as the only realistic outcome and the only question is when. People seem to think that "not this decade" is the right answer here based on the current pricing of Fannie and Freddie equity securities. Mark Calabria is not as optimistic about Biden administrative housing reform as I am, and I think that the only investible securities to capitalize on administrative reform are Fannie and Freddie preferred securities like S series of Fannie (OTCQB:FNMAS) or Z series of Freddie (OTCQB:FMCKJ) which I think would see face value of $25 in a restructuring via conversion to common at the IPO price. I commonly refer to the junior preferred stock like FNMAS as JPS.
History and Risks To Junior Preferred
Junior preferred shares were all issued at face value before the imposition of conservatorship in 2008. The imposition of conservatorship collapsed prices to 31 cents in 2010. Prices gradually recovered to $10 in 2014 when the first Lamberth ruling was anticipated to rule in favor of plaintiffs' interpretation of the law but failed to do so and prices collapsed again below $5 for a few years: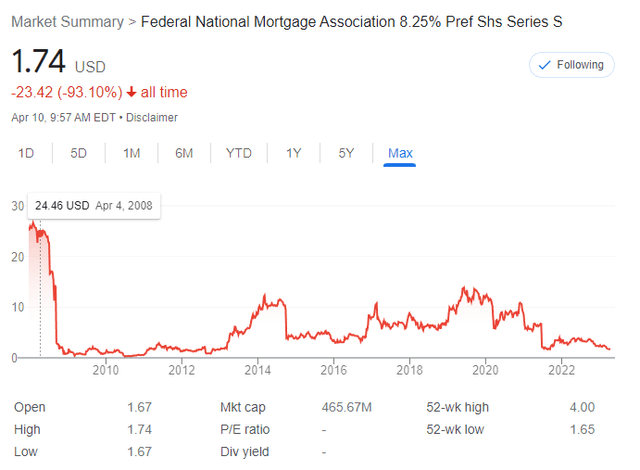 Trump became president in 2017 and was believed to favor admin driven recap and release and in September of 2019 Plaintiffs won a legal ruling that the net worth sweep was illegal. In 2021, Trump's Mnuchin and Calabria couldn't finish the restructuring and the Supreme Court overturned the earlier ruling saying that the net worth sweep is legal. Earlier this year, the Supreme Court also decided to not take up the Takings case for review. In conclusion, the Supreme Court seems to support the notion that the government taking the net worth of a private company in conservatorship is both legal and not a takings.
Last 12 Months
In the last 12 months and more recently, no one can exit fast enough. The selling has been relentless: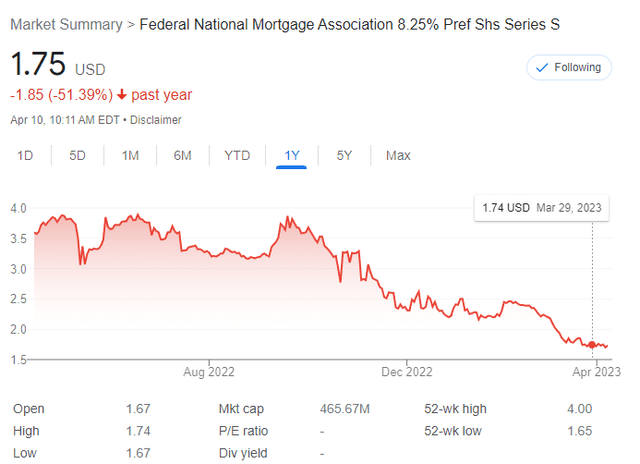 Bear Cases
The companies could be placed into receivership to get around the JPS. The conservatorship could last forever to get around having to deal with the JPS. In my view, GSE equities would also have no economic value if the SPSPA is never restructured (from Fannie's 10-K):

Long story short, if the government does not restructure its equity, common and junior preferred are likely worthless. I think that this combined with all the lost litigation paints a pretty bleak picture which is why the junior preferred have collapsed to 52-week lows.
Lastly, in a restructuring of the government's equity that is outside of receivership where the Junior Preferred shareholders are willing to accept less than face value, as it is better to take a little something than a whole lot of nothing, the end result for junior preferred may be subpar. I don't think this perspective carries water but it is a perspective nonetheless.
Agreement To Restructure Treasury's Investment
In early 2021 Treasury signed an agreement with both Fannie and Freddie where they committed:
to work to restructure Treasury's investment and dividend amount in a matter that facilitates the orderly exit from conservatorship, ensures Treasury is appropriately compensated, and permits the Enterprise to raise third-party capital and make distributions as appropriate.
In my view the light at the end of the tunnel is that FHFA under Sandra Thompson continued down this path and finalized a capital planning rule.
Capital Planning Rule Sets Stage For Capital Raise
Requiring financial institutions to file capital plans implies the intention to allow them to raise capital. In my opinion, the SPSPA in its current unrestructured state renders the capital planning rule ineffective because it prohibits companies from raising capital, which defeats the purpose of having such a rule. However, this situation is still a work in progress as evidenced by their continued work based on FHFA's performance assessment in Fannie's 10-K:
FHFA raised a concern in connection with our implementation of our capital plan, noting that we continue to work through the errors in a model we use to forecast.
Capital plans have been formalized under Sandra Thompson as preparation for life after conservatorship. This would theoretically pick up where Calabria and Mnuchin left off with the SPSPA work.
Calabria To Sandra Thompson
Calabria points out in his book the progress of the restructuring plans that he had worked on that are still workable on the shelf:
Since we had well-developed restructuring plans by late summer 2020, why did none of them happen? First, I believe both the Treasury and the White House wanted to push the issue until after the election.

…

Whether the continued back-and-forth with Treasury was in good faith on their part, I will never know. What I do know is that there was a general agreement between the FHFA and Treasury on a restructuring plan. That would not immediately end the conservatorship, but it would place the companies in a position to raise outside equity, which I could complete later in 2021, depending on market conditions.
Calabria's successor Sandra Thompson has since finalized the Capital Planning Rule June 1, 2022 which requires the GSEs to submit capital plans May 20, 2023.
The final rule's requirement to develop capital plans will allow the Enterprises to identify the amount of capital they need to raise to meet the ERCF's requirements, and to consider the timing of when to raise capital
In November 2022, FHFA reported that it issued this rule and successfully met this target as part of responsibly ending the conservatorships as well as completing the proposed rule on Enterprise disclosures under the ERCF. Now, FHFA is to "(o)versee the Enterprises' implementation of capital plans to achieve regulatory capital requirements." It is impossible for FHFA to achieve this objective of the companies achieving regulatory capital requirements before the end of FHFA's Strategic Plan 2022-2026 window without leveraging their capital plans to raise third party capital.
Sandra Thompson appears to have carried on with Calabria's plans of following the law and preparing Fannie and Freddie to raise capital and exit conservatorship.
The CBO Report Acknowledges Value In A Restructuring
The CBO report talks to the junior preferred stock still having value in a restructuring that doesn't involve receivership, implying that the only way junior preferred do not see face value is through receivership:
If, however, the Treasury wanted to raise capital through the sale of new common shares without resorting to receivership for the GSEs, the claims of junior preferred shareholders would have to be addressed. In this analysis, those shareholders are paid the full $35 billion face value of their shares from the proceeds of the common-stock sale, if possible, thus retiring their claims on the assets and income of the recapitalized GSEs.
Why would JPS get paid face value? The CBO addresses this too:
Junior preferred shareholders are in line to receive the dividends associated with their shares before holders of new or existing common shares. Thus, they might refuse to allow the GSEs to retire their claims on the GSEs' assets and income at less than the face value of their shares in the lead-up to a sale of new common stock. That refusal would reduce the value of the new common shares, making recapitalization more difficult. Even though the Treasury's preferred shares have seniority over the preconservatorship preferred shares owned by investors, the Treasury would have an incentive to make an arrangement that took into account its ownership stake in the GSEs' common stock.
Mark Calabria talks about the scenario where all preferred convert to common:
A conversion of all preferred equity was one of the only ways to fix the companies' balance sheets in a manner acceptable to Treasury.
In this scenario, junior preferred would only agree to convert to common if they get par in my opinion. Otherwise, there is no reason to convert at all when dividends will resume on the government's post-restructured common stock. Obviously, market prices point to other investors having significantly different opinions than mine.
Is The Only Question: When?
Mark Calabria celebrated this outcome in his book:
Therefore, one of my first responsibilities as director was to end the profit sweep, a action that was formalized in a September 2019 agreement with Treasury. There was essentially no profit sweep during my tenure. We were building capital at the companies, as was so clearly intended by Congress. I believe that was the single most important action I could have taken to address the illegality of the third amendment.

Building capital at the companies, with an eye toward eventual release from conservatorship, had occasionally been presented as some personal agenda of mine. It was not. It was clearly what the statute required and Congress intended.
By ending the profit sweep, Calabria and Mnuchin ended the stealth receivership and turned the conservatorship back into a conservatorship. Since junior preferred get face value in any exit from conservatorship that does not pass through the chop shop of receivership and the companies have retained earnings since 2019 and now have more capital than at any point in their history; the only real question to ask is when the companies are going to finally exit conservatorship. Calabria suggested in his book that the reason Mnuchin and he were not able to finish the equity restructuring was because Mnuchin did not want to upset Janet Yellen:
Any restructuring, to be successful, would have offended somebody. We did not get it done because Mnuchin did not want to upset anyone on his way out the door, including incoming Treasury secretary Janet Yellen.
When Mark Calabria and Mnuchin met with Biden's Janet Yellen to go over continuing Calabria's vision of ending the conservatorships, Calabria writes that he does not expect Yellen to move on administrative housing reform:
I repeatedly raised my concerns about the mortgage and housing markets, both to Treasury directly and to the Financial Stability Oversight Council. I also emphasized that no part of our financial system was more vulnerable to climate change than the mortgage market. If we were to see significant coastal erosion, the losses to Fannie and Freddie could be extraordinary. Unfortunately, the response was generally a dull, polite smile and nod. It appeared that new Treasury leadership would ignore the growing risks in our mortgage finance system.
Needless to say, Calabria does not think the Biden administration is interested in using its equity position in Fannie and Freddie to achieve its policy goals during a split Congress.
Pending Litigation Calendar
There is still ongoing litigation challenging government actions surrounding the net worth sweep. The most recent shareholder produced calendar is below: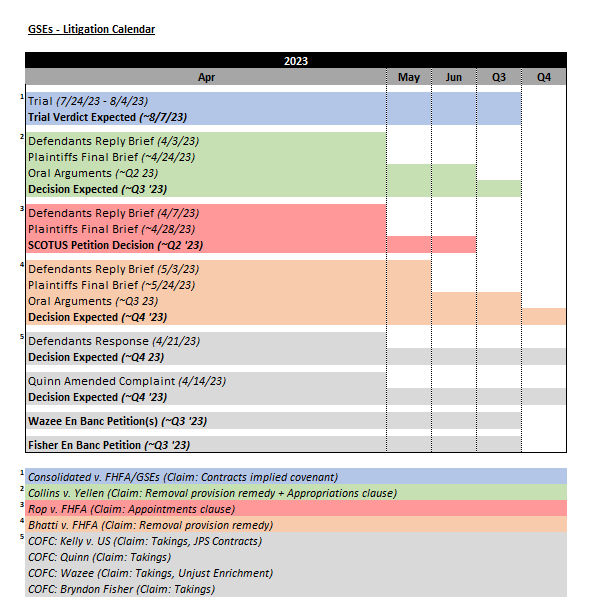 From above, I think the COFC lawsuits are now a long shot since the Supreme Court did not take them up and the appeals court outright dismissed them. The contract claims litigation pending in Lamberth's court is worth a few bucks for the preferred at best, I think, although I think that there is room pending a victory there to appeal Lamberth's rulings that pigeonholed the plaintiffs' claims to only being a few bucks instead of face value. The Collins case is probably the most interesting because we know that the en banc appeals court there ruled favorably for the plaintiffs on the APA claims before the SCOTUS reversed that ruling.
CapWealth's

Tim Pagliara On Admin Reform

In December, GSE preferred investor Tim Pagliara said he believes the timing for possible admin reform start taking shape in the first 6 months of 2023.

At the end of Q1 he put out an update that continued to support the concept that 2023 could be the year for Fannie and Freddie preferred shareholders.

Tim Pagliara has been an activist shareholder fighting for Fannie and Freddie to be released from conservatorship.
Bill Ackman's Pershing Square Holdings On Admin Reform
In his 2022 annual report Bill Ackman agrees that it is not if, but when the companies will exit from conservatorship:
Fannie Mae and Freddie Mac remain valuable perpetual options on the companies' exit from conservatorship.

…

We believe that it is simply a matter of when, not if, that Fannie and Freddie will be released from conservatorship.
Bill Ackman is really the reason behind why I started buying Fannie and Freddie equities to begin with back in 2014 and I agree with his perspective that it is just a matter of when.
Sayers Research Report
Kyle Nisbet thinks that Fannie and Freddie will likely be released from conservatorship in the next two years:
Despite currently being in conservatorship, whether by executive action or the result of a legal case, I believe it's likely that Fannie Mae & Freddie Mac will be released from conservatorship in the next 2 years, and should that happen the preferred shares would receive par value (from 6.88% of par currently) and there exist various opportunities for very high upside with the common shares.
Kyle's upside analysis on the common shares basically requires a legal victory or that Treasury voluntarily gives up the value of its SPSPA, something that Calabria notes that Treasury says is illegal.
Prior Fannie Mae CFO Timothy J Howard
In the comments section of Tim's "A Political Problem" blog post on Fannie and Freddie suggests that Calhoun being chosen by the White House originally to lead FHFA is compelling evidence that someone in the administration saw recap and release as good public policy:
But…the fact that Calhoun was nominated at all is compelling evidence that some person, or group of people, in the administration 18 months ago was (or were) aware that having him lead Fannie and Freddie out of conservatorship, and restore them as "real companies" providing low-cost affordable housing financing was good public policy for the President's party.
Tim Howard suggests that whomever was behind this push for Calhoun may be able to prevail in achieving administrative housing reform under Biden.
I suspect that whomever was behind the nomination of Calhoun in the first year of the Biden administration will see if they can't knit together a coalition of policy officials confident enough in the benefits of recapitalizing (under a true risk-based standard) and releasing Fannie and Freddie as healthy, management-run companies to be able to take on the fight with FE leaders they know is coming once they make their proposed policy public. But we'll only hear from them if and when they think they've reached a "tipping point," and believe they have a decent shot at prevailing.
Tim Howard puts the probability of a Biden solution at 50-50:
Am I predicting this will happen? If I'm being honest with myself, I'd have to say –to use a legal phrase–that I still think it's "more likely than not" the status quo will persist during the remaining term of this administration. But I also think the chances of a favorable resolution to the conservatorships in the next 20 months are well above zero, and may be closer to 50-50.
Meanwhile, the market is pricing odds closer to 5-10% of administrative reform under Biden.
Independent Community Bankers of America
The ICBA is requesting the FHFA and Treasury expand efforts to resolve the government's ownership stake:
ICBA and the nation's community banks strongly urge the Federal Housing Finance Agency and the U.S. Treasury to expand efforts to resolve the government's ownership of Fannie Mae and Freddie Mac and set them on a path to raise capital and eventually exit conservatorship.

…

We therefore urge FHFA Director Sandra Thompson and Treasury Secretary Janet Yellen to take immediate action to resolve Treasury's ownership based on the Preferred Stock Purchase Agreements with the goal of allowing the GSEs to access the capital markets and to eventually exit conservatorship.
Mark Calabria wrote a tweet March 21 arguing that the ICBA is stronger than the TBTF banks: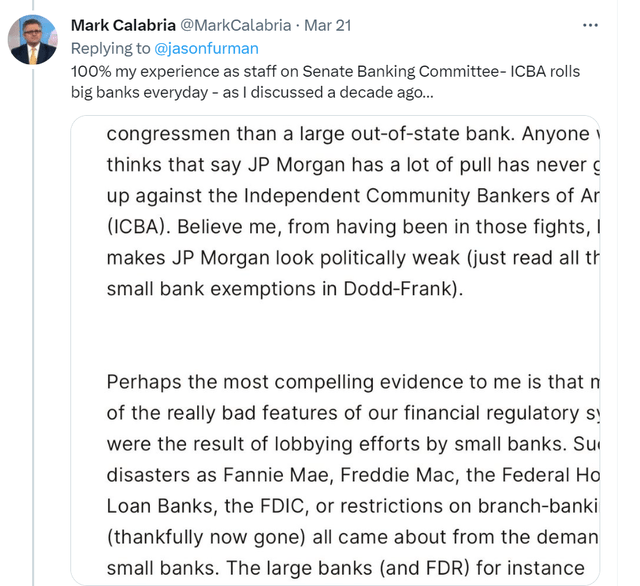 Senate democrats are even writing the administration requesting a "whole-of-government" approach to address our nation's housing needs. Monetizing the government's equity position could help achieve that goal.
Sandra Thompson On What's Next for FHFA
From minute 27-32 of the Bipartisan Policy Center's Fireside Chat with Acting Director Sandra L. Thompson, Sandra Thompson spoke to housing finance reform. The first thing Sandra Thompson addresses is that no one expected the enterprises to be in conservatorship for 14+ years. She points to the regime change under Calabria where the companies retain capital. Her big ticket items list starts with conversations with Treasury as a significant shareholder have to take place and there have been precedential conversations.
One of the things that we are doing is we are preparing the Enterprises to adjust to supervision in a way that they would be regulated outside of conservatorship.

…

If they ever get out of conservatorship everybody knows that it's going to be the largest IPO ever.
Sandra Thompson's preparation of the GSEs for life after conservatorship in conjunction with her finalization of the capital planning rule makes it sound like her conversations with Treasury probably did not revolve around a never ending conservatorship.
On Timing
We are in the second half of the Biden administration. FHFA delayed the implementation of a provision of the Federal Housing Enterprises Financial Safety and Soundness Act of 1992 until April 28. Some of the Biden team for the second half is still going through the senate confirmation process. Jared Bernstein's confirmation hearing is Tuesday April 18. He has previously talked about how Biden directed him to engage in housing policy discussions, how the wind-down team lost and how he was tasked with preserving the 30 year fixed rate mortgage.
Jared Bernstein also talks about the key to housing finance reform in his blog:
The key, then, is to a) put private capital in a "first loss" position ahead of the government, and b) set a price for the government insurance that accurately reflects and offsets the expected taxpayer costs of the backstop, something the GSEs decidedly did not do.
One way to interpret Bernstein's comment is to enable the companies to raise third party capital which will be private capital taking the first loss position and then restructure the remaining PSPA commitment terms so that the companies pay for it via the periodic commitment fee.
Comments on the proposed updates for the ERCF for commingled securities etc. are due May 12. The capital planning rule requires that Fannie and Freddie capital plans are submitted May 20th.
The timing is ripening for admin action. If we don't see any movement by the end of this summer, this probably isn't a problem that is going to get solved during this administration and all the benefits of solving the conservatorship problem will benefit the next president's agenda instead.
Treasury's GSE Accounting: Fully Valued With Growing Costs
From 2020-2021, the Fair Value of the GSEs stock was marked up from $108.9B to $220.9B. This enabled the Biden administration to recognize a lot more revenue from the GSEs and make more money off them: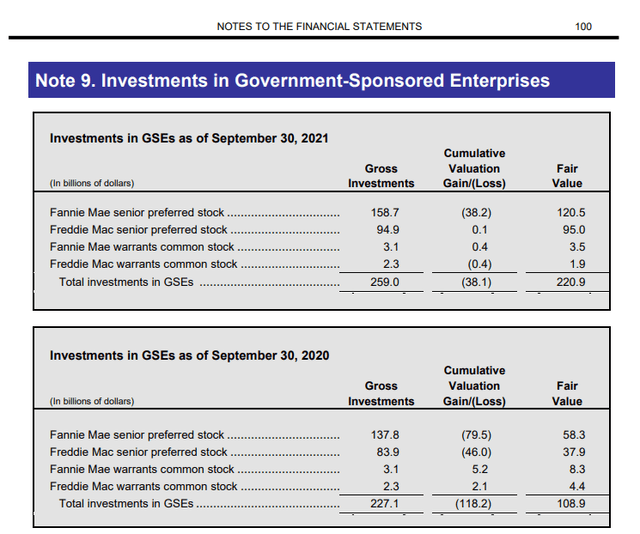 From 2021-2022, the Fair Value of the GSEs stock was marked up again, but Fannie Mae was marked down, implying that the companies were marked up to full valuation: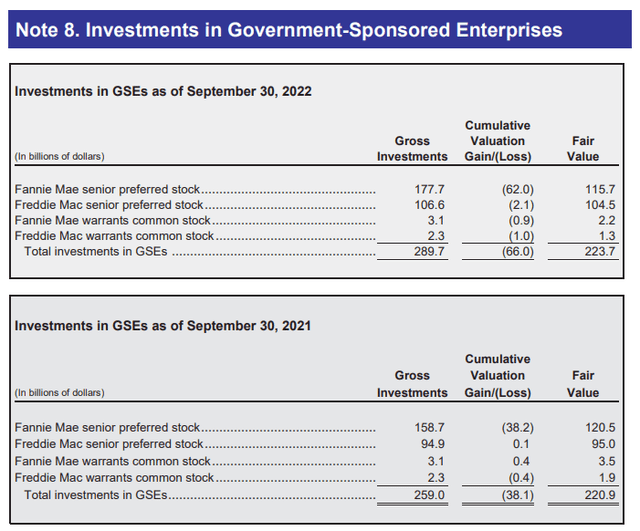 To finance these government assets, the government has debt costs. For years interest rates were low and from 2012-2019, the government took all the money from Fannie and Freddie and so the investment was profitable. Since the government stopped taking all their money, it has been making profit on them in a low cost environment by marking up the value of its stake in them on its balance sheet. Things have changed. Now the companies are marked to full valuation and will result in annual losses for the government because their equity stake cannot increase in value, does not pay dividends, and interest rates are going up.
In 2022, total national debt was $30.9T and the government paid $475B in interest payments on the national debt. This means that any asset on the government's balance sheet was profitable if it generated 1.5% return in 2022. In the case of Fannie and Freddie $220.9B * 1.5% means that it cost the government $3.3B to carry Fannie and Freddie on its balance sheet unrestructured, which was basically breakeven since the government marked them up $2.8B. That said, the tell is that Fannie Mae was marked down 2021-2022. Going forward, however, the value of the government's equity stake will not increase and funding costs will go up. According to the CBO:
Interest costs grew 35 percent last year and are projected to grow by another 35 percent in 2023.
What this means is that the government from here on out will be losing money by carrying Fannie and Freddie in their unrestructured form and not selling its equity stake in them because of their carrying costs, which are only increasing.
The government cannot just sit on assets that are not expected to appreciate when funding rates go up. This compels the government to sell its stake in order to remove the unappreciating assets that only have increasing carrying costs from its balance sheet.
Summary and Conclusion
Exit from conservatorship is happening. Timing of when is unknown. My view is that the companies are set to achieve their statutory capital requirements through retained earnings alone during the next presidential administration at which point something has to happen. As such, either Biden resolves the end of the conservatorships or the next administration resolves them. I think that the incentives are in place for Biden to resolve them and, if true, signs would start surfacing in the coming months and once those signs surface the price will no longer be in the bargain bin.
Fannie Mae and Freddie Mac have more earnings than they have ever held in their history since Mark Calabria and Steven Mnuchin began to end the cash net worth sweep in September of 2019 and the companies make more money now than pre-conservatorship since their guarantee fees have roughly doubled.
With the FHFA director being a political appointee position and Treasury's equity agreement controlling whether or not Fannie and Freddie can access third party capital and exit conservatorship, the ball is in the administration's court. According to Calabria's book, the government has been sitting on workable capital plans that get Fannie and Freddie out of conservatorship since late summer 2020. These plans can result in billions of dollars being put towards affordable housing initiatives according to CRL's Michael Calhoun. Under Biden, Sandra Thompson has required capital plans starting next month.
No longer are the companies giving their money to the government and unlike the SPSPA liquidation preference, the government's value of the warrants is not an accounting entry, it's spendable cash. The government seems to be setting up to spend this money, and soon. In his book, Calabria says that "Building capital at the companies, with an eye toward eventual release from conservatorship … was clearly what the statute required and Congress intended." So, not only should the government follow the law and the intentions of Congress in facilitating the end of the conservatorships, but it gets the opportunity unlock a lot of spendable cash by doing so. Lastly, Sandra Thompson has carried out a lot of regulatory work since becoming Director of FHFA to prepare Fannie and Freddie to do equity offerings to meet their capital requirements and their subsequent life outside of conservatorship.
Treasury has made a lot of money on its investment in Fannie and Freddie, but now the tables have turned and the government cannot just sit on assets that are not expected to appreciate when its funding costs are going up. Thus, Treasury's better off selling its equity stake in Fannie and Freddie. FHFA, Fannie and Freddie are all ready to help get that done. It all is waiting on Treasury.
Editor's Note: This article discusses one or more securities that do not trade on a major U.S. exchange. Please be aware of the risks associated with these stocks.