Dear readers/followers,
I've done plenty of writing on National Grid plc (NYSE:NGG) before. I can easily explain to you why that is – the company is an absolute market leader (or among it) in the margin and performance department, and its returns in terms of the cost of the actual cost of capital are at outperformance levels. To put it simply, NGG management seems to know exactly what it is doing – and how to best go about its goals.
It's understandable in the current environment that companies like NGG are seeing pressure on the valuation – and the company here doesn't have the best debt quality or scores, scoring worse than over 80% of its peers in the debt-to-equity department.
But there are clear reasons for why I view NGG stock as a good choice for my portfolio beyond just that solid 4.5%+ yield (and that one's well-covered), once the company goes to a somewhat lower price.
Let me show you.
Revisiting NGG and the upside
So, first off, I've been positive on NGG for some time. I've periodically and strategically added shares – though perhaps not as much as I should have been adding, given how low the company dipped a few months back.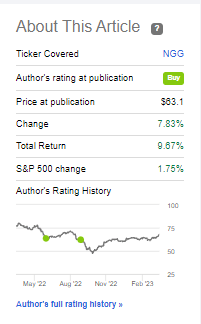 However, this company is now a solid 0.5% part of my overall portfolio, and that's not a small amount of capital for me given my current portfolio size. I also have no intention of reducing that – only adding.
NGG is a conservative business. Its roots go back to well before the 2000s, and before its founding, the operations that are now NGG, generation, and transmission of electricity in England and Wales were under the Central Electricity Generating Board, a public entity that was broken up in 1990 into different companies. This eventually went from twelve regional companies to a holding company, which in 1995 was listed on the FTSE.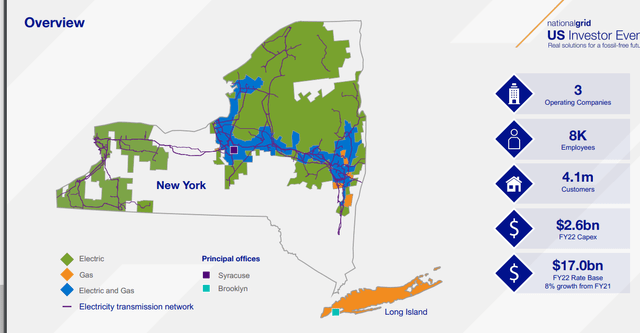 Like many other utilities, NGG hasn't tried to grow organically – it grows by gobbling up competitors, and its expansion to the US market was definitely one of those. The US market is now over 40% of the company's assets, and it's strictly in regulated markets in the US.
The company has overall managed to grow during the past couple of years in terms of operational performance. Its US operations are split amongst a few states, and most of the regulation rates have been refreshed over the last 3 years.
The company base rate growth has outperformed the average and its comps because it's been close to double digits, and its ROE metrics have been stellar. On a profitability comparison, NGG has been more profitable, on average, than the 99.78% of other utilities in the sector (Source: GuruFocus, Sector Comparison, Utilities), in this case, the regulated utility sector. The company also has sector-leading margins and well-above-average RoE in the 76th percentile.
NGG has been able to grow both stockholder equity and assets at a relatively steady rate, and the only issue I would point to would be a comparatively lower ROIC next to 5-10 years ago, but this is also due to increased cost of capital, which is impacting all companies and not just NGG.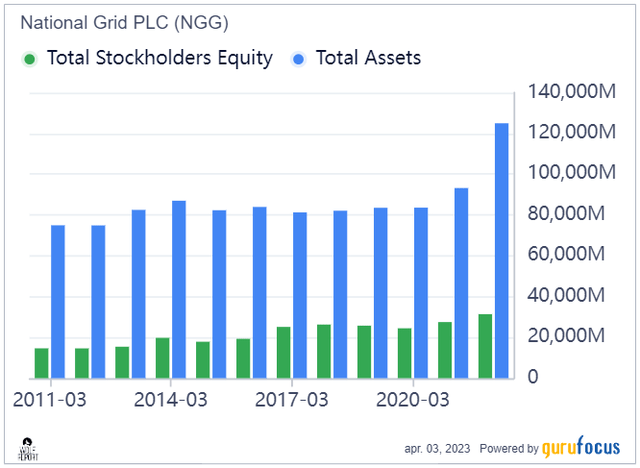 The investment proposition for NGG remains a strong one – and is based on a continued dual-country appeal with a very solid outlook for both transmission and distribution as well as the company's new NG ventures.

As with most utilities, NGG is not an "exciting" investment. I would be willing to wager that the company will not make you a millionaire by itself – what it will do is provide you with a good return in terms of the company's 4%+ yield, while also providing the potential for capital appreciation. if you're in the EU at this time, you can get a 2.5-3.5% on a savings account – or you could put money in NGG, which comes in at 4.5%+, while also giving you double-digit outperformance potential.
I know well where my money is going, and it's not in a savings account.
The company's case is also based on its expansion and corresponding CapEx. Until 2026E, the company's plans are to invest upward of £35B, mixed in electricity transmission, US-regulated, distribution, and New ventures. This in turn will cause asset growth of 6-8% CAGR, and EPS growth at 6-8% CAGR. All of these numbers are either in line with the overall market or they're significantly better than what is available out there.
The latest results we have were published back in November of 2022. At his time, the company provided its updated outlook, which among other things, included the improved EPS outlook until 2026. The company also managed to finish up its Rhode Island Sale, and other strategic initiatives are currently on track. 1H23 saw underlying op. profit go up 44%, and EPS improve by 42% – an outlier that will not be repeated, together with dividend growth of 3.7%.
There are very few exciting and very few surprises to consider here. The company simply performed in line with its overall expectations. The one wild card with potential is the NG venture segment, which is now at 73% completion in terms of the interconnector cable, as well as capacities in offshore wind and solar projects either coming online or being constructed/considered.
The strength of the overall business model is what you're investing in here. NGG is not going anywhere, and its rate base and growth estimates are why I am very positive about the expectations here, and why I don't consider debt to really be any sort of major issue.
A word on the debt, as I haven't covered it closely in my previous articles, and it does warrant mentioning. It's £46.5B, not a small amount, at 71% fixed with 19% floating (the rest is index-linked) at a balanced profile of just 51% at GBP, despite NGG being a British company. Almost no Euro exposure. It can be said that the company's FX exposure in almost a perfect manner mirrors the company's actual asset exposure.
I don't expect miracles from NGG – but NGG has never needed to invest miracles for me to consider it a good or safe investment.
Let's look at the valuation to find out why.
National Grid – The long-term upside & valuation
NGG trades in a peer group with other regulated utilities. This includes companies such as (in the order of market cap), NextEra (NEE), Southern (SO), Duke (DUK), and then NGG, making it the 4th largest with a current market cap of around $50B. It also includes companies like ConEd (ED), PG&E (PCG), Dominion (D), and typical "boring" utility investments that are generally viewed as not "going anywhere" except for the yield.
But this quality of "not going anywhere" also comes with an immense overall positive – because they really are not going anywhere. These companies will deliver earnings and dividends for as long as their cash flows will allow them to make a profit, and because they're rate-based and regulated, this will likely be until the current form of Western civilization changes. It's not a massive yield, and the upside for some of them can potentially be low – but they're "safe".
NGG, for instance, trades at a target range of $62 to $75 for the native ticker, with an average of about $69/share. Over 50% of the analysts are still at a "BUY" here, despite that the company has recovered somewhat over the past few months.
The forecasts are as lackluster in terms of excitement as you've ever seen.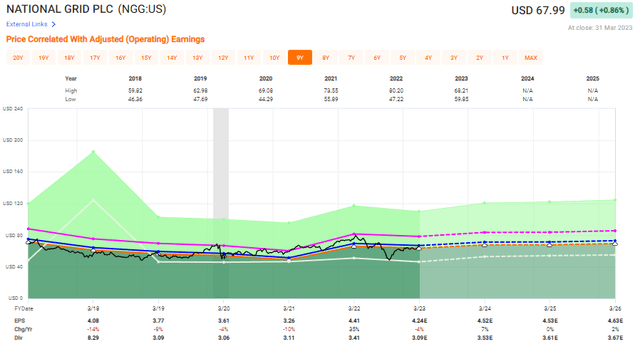 But massively-growing forecasts are not why we buy utilities. Instead, it's the BBB+, the 4.55% yield we get here, and the fact that we're investing in a very attractive multi-utility with a dual-country exposure. The company's 14-17x P/E means that we're looking at an upside that could go as high as around 9-11%, or as low as about 6-7%. The low side is lower than I'd like to see for this company, but I forecast it closer to 16-17x, owing to its significant asset quality. I do not believe though, that the company will see more than 6-7% EPS growth for the foreseeable future, especially with its debt servicing costs going up once some of the maturities start coming in for refinancing.
NGG isn't "the best" utility out there. There are others with higher margins, but it's a damn solid one and a utility with a very appealing set of diverse assets and income bases.
Most institutional investors actually went completely in the wrong direction with NGG, which tells you that mistakes can be made even by billionaires. Plenty of shares were sold back in December, only for NGG to outperform over 15% since the time, widely outperforming the market.
I held onto my shares, and I will continue to do so, even with the thesis now at a "HOLD"
Why?
Well, consider for a moment that you're really talking about essentially a hybrid bond proxy with a 4.5%+ yield with a very balanced exposure across geographies and assets.
These are utilities and transmissions to millions of customers across New England, NYC, and the UK – these are incredibly stable operations with indexation for inflation. This offers us protection – not just a little either. You may notice that the company's earnings have been relatively flat next to the overall market. That's the character of this company.
I do invest in other utilities more than I do NGG, and those investments have also seen far better returns. This includes companies like Enel (OTCPK:ENLAY) or Fortum (OTCPK:FOJCF), both of which I am long, and even longer than NGG in some cases. Both of those have also outperformed my RoR in NGG by quite a bit – however, neither of those is as safe as NGG is.
There is no undervaluation for NGG currently – but it hovers around the $69-$70/share mark, and once it dips below $70, I would once again consider the company a "BUY".
For now, though, NGG is a "HOLD".
Thesis
The current thesis for National Grid is:
While an excellent company with an appealing portfolio, NGG is about to take on copious amounts of leverage to improve its assets while doing very little to its dividend – though inflation will now do something to offset that.
With a somewhat higher valuation, I now consider NGG to be a "HOLD".
I would now be interested in buying the company, and I'm bumping my price target up to $70/share – but this is now below the current share price the company is trading at.
Remember, I'm all about:
1. Buying undervalued – even if that undervaluation is slight, and not mind-numbingly massive – companies at a discount, allowing them to normalize over time and harvesting capital gains and dividends in the meantime.
2. If the company goes well beyond normalization and goes into overvaluation, I harvest gains and rotate my position into other undervalued stocks, repeating #1.
3. If the company doesn't go into overvaluation, but hovers within a fair value, or goes back down to undervaluation, I buy more as time allows.
4. I reinvest proceeds from dividends, savings from work, or other cash inflows as specified in #1.
Here are my criteria and how the company fulfills them (italicized).
This company is overall qualitative.
This company is fundamentally safe/conservative & well-run.
This company pays a well-covered dividend.
The company is currently cheap
This company has realistic upside based on earnings growth or multiple expansion/reversion.