NEW YORK — Deep inside Manhattan's Criminal Courts Building, former president Donald Trump was being arrested and arraigned, an event both significant and solemn by its very nature.
But outside? It was a theater of the absurd that arguably befit the Big Apple's over-the-top nature.
Yes, there were protestors on both sides — pro-Trump and anti-Trump — gathered to make their voices heard. But these weren't necessarily your typical demonstrators.
Instead of storming the gates or creating other forms of mayhem, they seemed more bent on entertaining each other.
Take Ricardo Varona, a Trump supporter who came equipped for the occasion with two basketballs that he kept spinning non-stop. All while he roamed through the crowd on roller skates, no less.
"You ain't never going to see this at a rally," said Varona, a Bronx native, of his aim to make political protest a little more like a Harlem Globetrotters game.
But the anti-Trumpers also aimed to amuse. Witness the guy who walked around in a prison-style orange jumpsuit while donning a Trump mask.
"Today is the first that Donald Trump has done something great for America because he's getting arrested," said the orange-clad protestor, who declined to give his name.
And there was more merriment — and many a banner and sign. A gentleman carried a placard that read, "Hey Donny you don't get hairspray in prison." Strangely, he decried the circus-like nature of the scene.
"Everyone here is a performer. There are no real protestors anymore," said the protestor, another one who wouldn't reveal his name.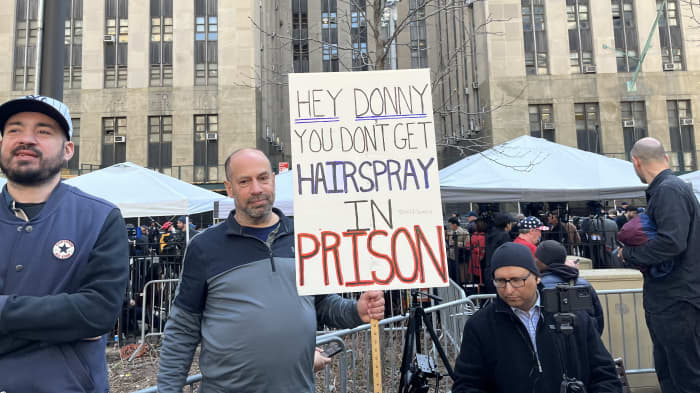 Adding to the circus-like atmosphere: For every protestor on hand, there seemed to be a member of the media — or two or three — chasing them with a microphone or notepad in hand. And these stalwart journalists came from near and far.
"Trump has captivated the world," said Lillian Kretz, a Washington, D.C.-based reporter who was on the scene reporting for Danish radio and television.
Kretz said she also covered the Jan. 6 protest-turned-riot at the U.S. Capitol. That event was "anarchy," whereas the courthouse scene was more like a show, she explained.
But perhaps that spoke to something about the true nature of Americans — or at least New Yorkers. "They know how to use their First Amendment rights and they know how to make it entertaining," Kretz added.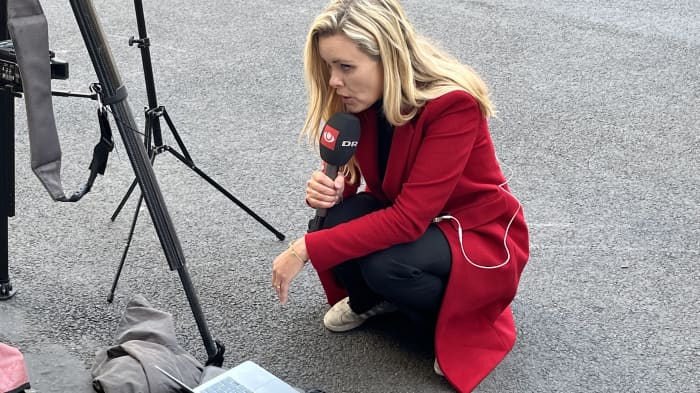 Too bad Kretz didn't have a chance to catch up with Emma Madsen, a 21-year-old visitor from Denmark who was in New York on a two-week sightseeing trip. She decided to stop at the protest with a fellow Danish traveler because, well, she was anticipating a show.
Plus, she was hoping for her moment of fame. "We're looking for a Danish reporter so we can wave to our moms," said Madsen, who was planning on continuing her day with a walk across the Brooklyn Bridge and a trek through Chinatown and Little Italy.
There were some who also saw a financial opportunity in the absurdist scene, which unfolded in an urban greenspace with the none-too-glamorous name of Collect Pond Park.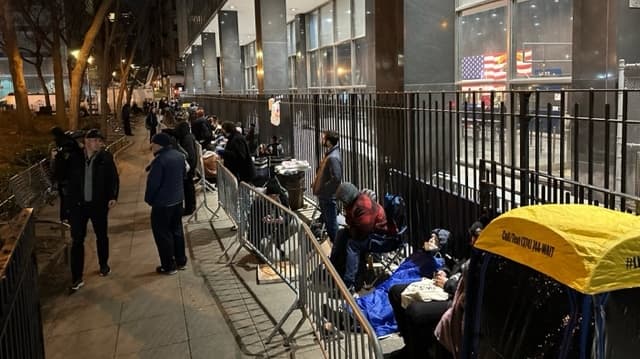 Robert Samuel made a few thousand dollars by helping media outlets keep and secure their place on line to enter the courthouse. The 47-year-old New Yorker is a professional "line-sitter" with a staff of about 20, but his work usually involves queueing up at passport offices, box offices and the like.
He was happy for the unexpected windfall, though he admitted he initially had his hesitations. That is, he thought the scene might get ugly a la January 6.
Instead, Samuel reported, "It went off without a hitch."