Introduction
Developments in generative AI technologies and its implications for Google (NASDAQ:GOOG) (NASDAQ:GOOGL) and it's market leading search engine (89% market share) have taken the center stage in discussions around the stock. No doubt, these factors will determine the fate of Google. However, I am wary of making bold predictions of the ultimate winner(s) of the new search function market share leaders. I am skeptical about first-mover advantages other authors have discussed as internet history shows that many initial leaders often do not end up as the ultimate stable market share incumbent leaders. For example, before Google, search engine market share was dominated by names that would be unrecognizable and unknown, especially to the younger generations: Alta Vista, Excite, Lycos, etc. In these hard to predict situations, I defer to the wisdom of the crowds principle; the consensus view is likely to be an accurate view.
I think alpha-generating insights often come from recognizing things that are less obvious. In the case of Google, I think this applies to its cloud business. I suspect positive surprises vs consensus on Google Cloud's path to profitability:
Financials of Google Cloud
Google Cloud's contribution to overall company revenues has increased over the last few years from 3.5% to 9.6%:

This contribution is expected to increase as the segment is still growing at more than 30% YoY; much faster than the company average growth rates, despite the recent slowdown in cloud spending: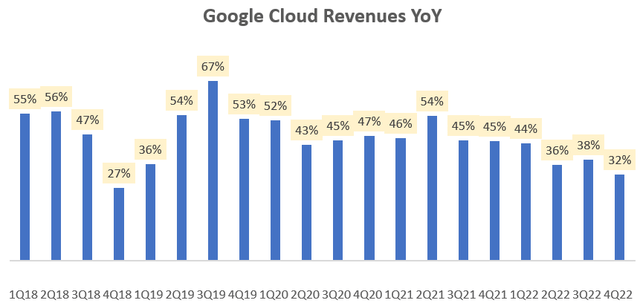 However, these operations are loss-making: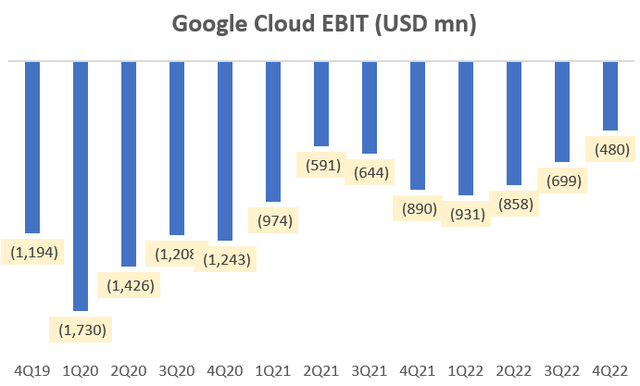 EBIT margins are improving but are still negative: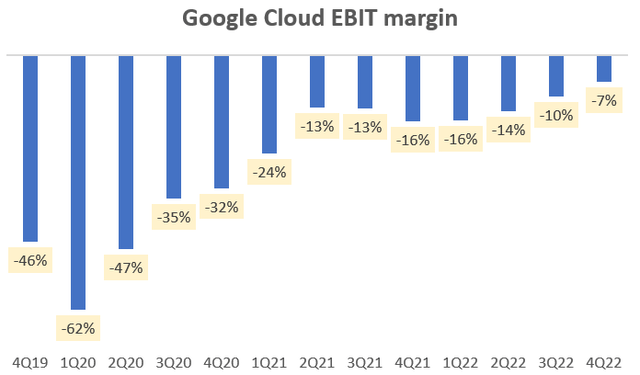 Profitability is back in focus
In the Q4 FY22 earnings call, management noted that:
Cloud remains very focused on its path to profitability.

– CEO Sundar Pichai
This commentary marks a change in priorities from 2 years ago when in the Q1 FY21 earnings call, the CEO signaled an investment-heavy phase:
…we will invest aggressively in products and go to market…
Importantly, these changing priorities are being seen in the numbers as well. After a drop in incremental EBIT margins during the growth-heavy investment phase, this figure is now trending back up at an accelerating pace; Q4 FY22 showed a sharp rebound to 49%: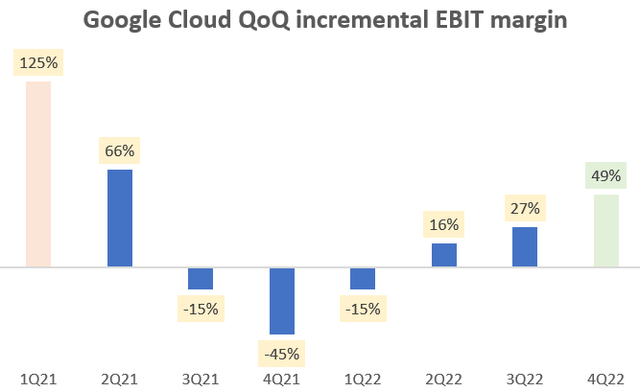 Price hikes incoming
From April 1, 2023, the company will hike up prices in cloud storage in both components of Google Cloud; Google Cloud Platform [GCP] and Google Workspace:

Google Workspace's Monthly plans are seeing a 20.0% price hike after April 1 2023.

As seen in the table above, Google Cloud Platform is also seeing large increases especially in network egress costs.
If you're unfamiliar with these cloud terms, this snapshot explanation courtesy of ChatGPT should help: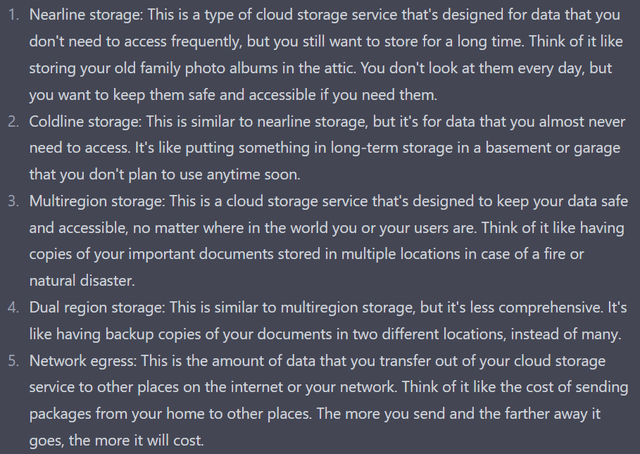 Overall, I believe these changes will accelerate Google Cloud's path to profitability in the quarters ahead. And since cloud adoption is a powerful structural trend, I do not expect any material loss of customers or sharp falls in revenue growth as a result of this pricing strategy.
Consensus is not pricing in the margin tailwinds for Google Cloud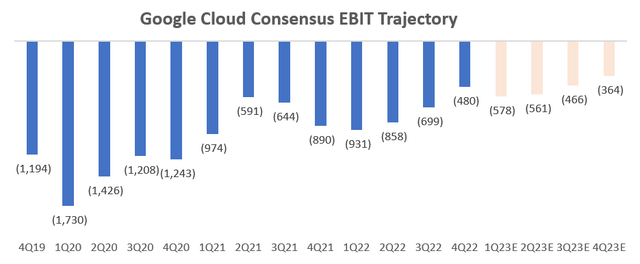 The average of Bloomberg and Visible Alpha estimates on Google Cloud EBIT is forecasting further losses in EBIT in the next 2 quarters. Given management's commentary and the aforementioned price hikes catalyst, I believe this is unlikely to occur. Hence, I anticipate upside surprise risks on this number.
What about the view ex of Google Cloud?
As mentioned in the introduction, for the other parts of Google, I am assuming the consensus view. Hence my variant perception is coming solely from my different take on Google Cloud's margins.
Is such an assumption reasonable?
I would argue yes. This is because based on Capital IQ data, over the last 75 quarters since the current CFO Ruth Porat's regime started in May 2015, the median of Google's overall EBIT margin beats vs consensus has been only 1bp. The median of Google's absolute EBIT margin surprise vs consensus has been 0%. So the stats show that generally, consensus is on the mark.
Hence, I find it perfectly acceptable to go with the consensus view, except for the Google Cloud margins piece, where I believe there are some real catalysts that may not be priced in. This leads to my overall positive bias on the stock.
Overall View
Stocks like Alphabet/Google move on variant perceptions vs consensus. As consensus estimates have on a 75-quarter median average been on the mark, my view is identical to the wisdom of the Wall St crowd. Except for one area where I believe there is upside risk; Google Cloud's margins.
A change in tone in management commentary to favor profitability backed by rapidly improving incremental EBIT margin economics and the catalysts of broad price hikes all suggest an improvement in Google Cloud's margins going forward. However, Wall St is not reflecting this in the numbers yet; rather, Google Cloud EBIT margins are forecasted to worsen over the next couple of quarters rather than improve. This leads to my variant perception view; ceteris paribus, Google Cloud's margins and hence overall margins can positively surprise.
As a result, I am bullish on Google stock (GOOGL). As mentioned in a previous article, it has found a place in my portfolio.