Investment thesis
Coty Inc. (NYSE:COTY) has the potential to be a classic turnaround story. The company faced a difficult few years and is now on the precipice of the next phase in its development. Our objective is to assess if the business has truly turnaround, or is a case of short-term gains due to the pandemic. Our focus will be on conducting a financial analysis of the business, considering commercial developments alongside this.
Company description
Coty is involved in the production, marketing, and distribution of beauty products worldwide. Coty offers fragrances, color cosmetics, skin and body care products through a variety of retailers under different brands. Brands include Gucci, Rimmel, Sally Hansen, and adidas, among others.
The company operates in two segments: Prestige and Consumer Beauty. The Prestige products are primarily sold through high-end retailers, while Consumer Beauty products are sold through a variety of outlets.
Share price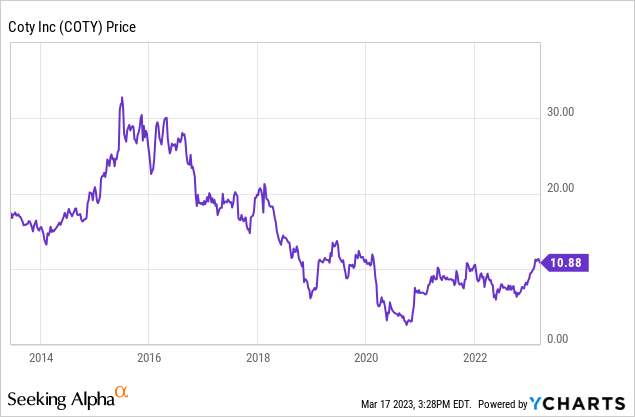 Coty's share price has had a terrible time since 2015, declining from its ATH of $32 to sub $15. This has been driven by underlying financial issues, as well as a substantial $3BN write-up against acquired assets from PG. The company has made incorrect corporate decisions and shareholders have paid for it.
Financial analysis
Presented above is Coty's financial performance for the last decade. The company performed poorly, both before and following the transaction.
Revenue has grown at a CAGR of 1%, with the company unable to achieve consistent growth despite the PG transaction. This is likely the factor that encouraged Coty to purchase the division in the first place, with 3 years of declining sales before it. With sales up impressively in FY22, we must consider if this new level is sustainable, alongside if sustainable growth is possible.
In the most recent quarter, Coty achieved 6% LFL sales growth in its CB division, as well as 3% LFL in its Prestige division. This is on the back of successive quarters of growth. These are fairly strong results when factoring in the economic slowdown we are currently experiencing.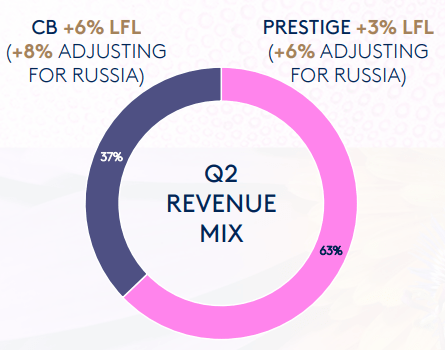 One of the factors behind the resurgence is improving product innovation, with Coty creating more competitive products in the market. In an industry like beauty and fragrance, product innovation is key due as a new hit can grow incredibly quickly through social media and generate substantial revenues for several years. An example of this is Dior's Sauvage, which is the best-selling fragrance in the world and has remained incredibly popular since its release in 2015. Presented below are examples of some successes Coty has had in recent years.
Another factor that has driven the most recent improvement in sales is the increasing amount of travel following the pandemic, with Coty achieving 40% Y/Y growth in travel retail in H1-23. With travel returning to normal in the last 12 months, this supports the idea that Coty can maintain its current level of sales.
A short-term tailwind the company faces is the reopening of China. China has been struggling with eliminating Covid-19, with the country's Zero Covid policy failing. This contributed to successive lockdowns and travel restrictions, with demand heavily suppressed. With China now seeing the back of Covid, it is likely that domestic demand will increase, potentially similar to how it did in the West in 2021. Further, we will see greater travel from China to Western nations, again driving demand. It is difficult to quantify the potential growth upside but we would conservatively suggest low single-digits.
Thinking more long-term, revenue improvement is supported by the growth in the industry as a whole. The Luxury fragrance segment has seen market growth of 12% in NA and 16% in Europe, exceeding that of the fragrance market as a whole. This is Coty's area of expertise, with brands such as Gucci and Burberry. Although consumer trends can shift in any direction, we are seeing greater demand for luxury in many other industries such as watches and fashion, suggesting this is greater than a short-term shift. This has the potential to general long-term headwinds, with consistently healthy revenue growth.
Further, Coty has struggled with supply-chain issues, contributing to issues meeting demand. As a result of this, the performance figures above are understated relative to fundamental demand. It is difficult to assess if this means a release of deferred spending in the coming 12 months or if consumers have purchased products elsewhere. Our view is that this is likely a missed opportunity.
Looking at GPM, Coty has seen margins expanding over the last 10 years, reaching a current high of 64%. This represents the "premiumization" of the fragrance market, with Coty able to consistently increase prices above any inflationary pressures, with consumers willing to pay the premium for luxury. Further, margins are supported by the Consumer Beauty segment, which is a high-margin industry.
Coty does struggle with bottom-line profitability. As a highly levered business, the pressure on the operational side of the business is far larger. Over the historical period, we have seen S&A expenses increasing as a percentage of revenue (as revenue has stagnated), suggesting Management is inefficiently allocating resources. Coty's turnaround in the last few years has been strong but this is an area that remains a weakness. Coty must continue to invest in A&CP but seek further efficiencies in other areas. Management sees $165M in gains in the next 2 years, which amounts to an EBITDA improvement of 3% today.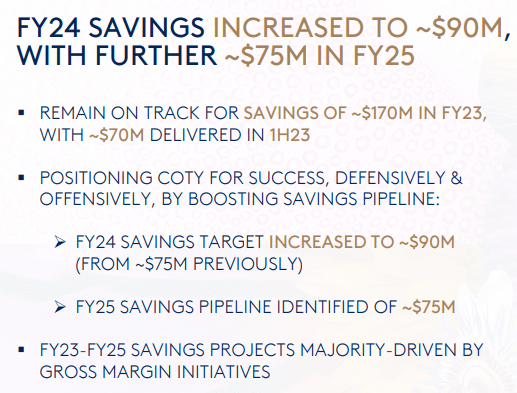 Overall, Coty's P&L looks in far better shape. Industry tailwinds will support revenue, to the extent that current levels are sustainable. Management has done well to improve margins through proactive price action and reach a level where the company can achieve an EBITDA margin of 17% and FCF conversion of 9%. There is still more to be gained before the metrics become objectively attractive but from the FY17 levels, we have seen a successful transformation.
Moving onto the balance sheet, the efficiency metrics put into perspective where Coty is and where it could return to. Although profitability is better, the net income returns are extremely sub-par.
Management has done well to manage inventory, with turnover remaining steady compared to the prior year. A portion of this will likely be the supply-side issues, preventing the company from accumulating inventory. This does mean that if demand does slow, Coty is not sitting on a substantial amount of inventory.
Coty's biggest issue is its debt balance. The company has a net debt to EBITDA ratio of 4.2x, with only $281M in cash at Dec22. This is a legacy issue the company has struggled with, managing to deleverage in the last 3 years. Coty has strategically sold down its Wella (and Co) position to KKR as a means of generating capital. Regardless, the company's cost of debt is 6% which means its NI margin is a sorry 3%. Moody's has upgraded Coty's rating, citing improving profitability. Correcting big mistakes is far more difficult on the balance sheet than P&L and so credit should be given while acknowledging that this remains an issue. This makes the business somewhat inflexible in the face of potential opportunities/threats, as well as limits the ability to distribute to shareholders.
Outlook
Presented above is Wall Street's consensus view on the business in the coming 5 years. Analysts are extremely bullish on this business.
Revenue is expected to grow at a rate of 5%. We concur with this view, as improving market conditions and product innovation help achieve sustainable improvement. The key risk around achievability is product innovation, as consumer appetite is clearly resilient and growing.
Margin assumptions look extremely bullish, with improvements across the board. Until the EBITDA level, analysts are likely betting on Management succeeding in its cost initiatives. Coty's track record does support this.
NI margin is far more interesting. 7 analysts have taken the view that in FY25F, Coty will achieve 7.6%. This is based on Coty's aggressive deleveraging in the coming years, focusing on reducing its interest burden. This is the correct capital allocation decision in our view and so based on the fact we see the above assumptions as reasonable, we too concur with this.
Relative performance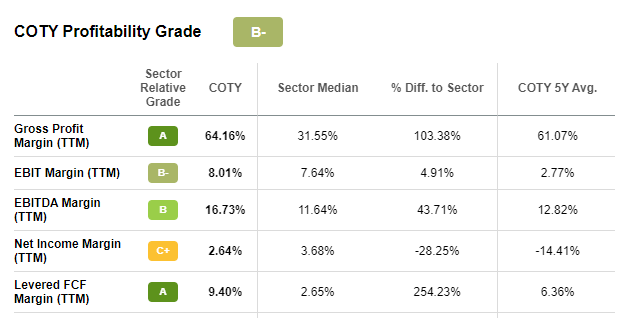 Coty's turnaround story is reflected in the table above, where the company now scores a B- for profitability. This is an extract from Seeking Alpha's analysis, which rates the business based on its relative and absolute performance. The key driver behind this rating is Coty's GPM improvement, which we expect to continue. Further, with the deleveraging effort in full swing, we will likely see the NI-M score increase too.
Not only is profitability now considered strong but Seeking Alpha has scored Coty's growth a B also. This is driven by the bullish outlook on the business.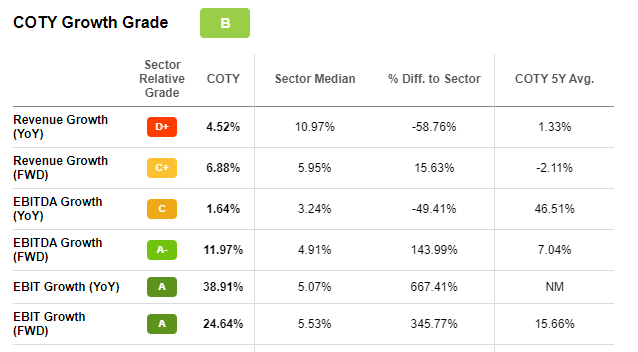 Drilling beyond the sector analysis to industry, Coty is currently ranked 6th in the "Personal Products" group by Seeking Alpha's Quant. This is higher than both L'Oreal (OTCPK:LRLCF) and Estee Lauder (EL), the two leading companies in the industry. The key outperformance metrics are growth, resilience against estimates, and momentum. This supports the idea that Coty could produce a sizable outperformance in the medium term.
Valuation
Seeking Alpha's current valuation is rated a D-, primarily due to its poor bottom-line profitability. However, this is an issue that the bull case suggests will not be in the next 5 years. From an EBITDA perspective, the company looks far more reasonable, trading at a 20-26% premium. A large portion of this is reflecting the current levels of growth and profitability, with truly reflecting the potential in the coming 5 years. The reason we believe this is due to the following.

Coty's highly profitable peers are trading at a substantial premium to the business, and in the case of ELF, more than double. At a <17.5x level, it is difficult to suggest Coty isn't at least marginally undervalued.
Final thoughts
In the last 5 years, Coty's turnaround story is one of realistic success. Too many times, our expectations can be completely unreasonable. What Coty has achieved is pretty good, profitability is up and at record levels, with a focused deleveraging process underway. The industry looks to be resilient in current economic conditions, with the luxury segment facing tailwinds as consumer interest trends toward it.
With Coty trading at a noticeable discount to its peers, while being expected to rapidly close its deficit to them in the coming 5 years, we can see multiples expansion through price action as investors buy into the success of the turnaround.
We rate the stock a soft buy.
Editor's Note: This article discusses one or more securities that do not trade on a major U.S. exchange. Please be aware of the risks associated with these stocks.