After a chaotic weekend, federal banking regulators decided to close New York-based Signature Bank (NASDAQ:SBNY) before Monday, citing systemic risk. Tensions were high after the failure of SVB Financial Group (SIVB) on Friday, one of the largest banks in America. The FDIC, Fed, and Treasury put out a joint press release on Sunday, outlining the government's response to recent developments. Key points from the government's plan to deal with the nascent banking crisis:
Depositors at SVB and Signature Bank will be made whole, effective immediately. Both banks are now closed. Common and preferred shareholders will almost certainly be wiped out, and general creditors will get what's left over after paying depositors. However, this means that companies relying on funds at SVB to make payroll can breathe a sigh of relief.
The Fed will make additional funding available to banks

through the "discount window."

The Treasury set aside money for a "Bank Term Funding Program" through the Fed that will allow banks to get additional funding as needed.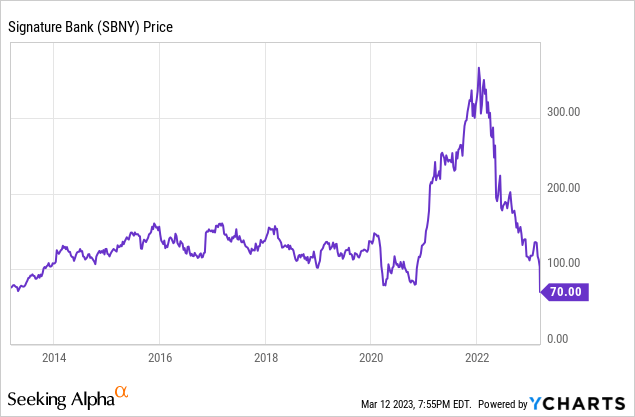 SBNY stock already has had a crazy rise and fall, and while I don't have confirmation yet, the stock will likely be zeroed out on Monday and canceled since the bank was seized from them by regulators. Signature was known as a crypto-friendly bank and had about $110 billion in assets as of the last count. A source I asked in the real estate industry described Signature as "aggressive" in their lending standards and said that while most hadn't heard of the bank, it was well known among high net-worth real estate investors.
Of course, SIVB already is out of business, having last closed at about $106 per share on Thursday.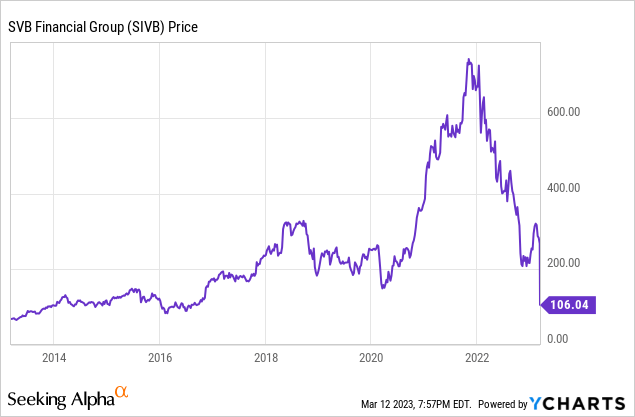 2023 Bank Crisis: Analysis
The first thing that I think is incredibly interesting about this round of bank failures is how fast things have moved. In 2008, if banks were in trouble back then, word would still spread quickly, but the viral intensity that social media brings was not in play. Now, people can get real-time news on Twitter, and they can see videos of bank runs happening in the middle of the day. Twenty years ago, most people likely would have read about it in the paper the next day, or online at home. Now, the news is available on your smartphone, 24/7.
Have banking regulations kept up pace with technology? Probably not. That may be a problem for banks like San Francisco-based First Republic (FRC) and Beverly Hills-based PacWest (PACW). On Saturday, widely circulated videos reported that hundreds of desperate First Republic customers were standing outside the branch in the rain in Brentwood, an affluent neighborhood in Los Angeles.
Regulators ultimately are letting First Republic open on Monday, but thousands of customers were likely going to the bank first thing in the morning to pull their money. News broke that First Republic is getting a rescue package from the Fed and JPMorgan Chase (JPM), so they're now likely to survive. This will likely suffice. However, the run may prove somewhat hard to stop. Even if the government and JPMorgan guarantee the deposits, then many customers may feel that they're better safe than sorry. When it comes to bank runs, perception is reality – whether customers believe a bank is safe is just as important as whether a bank is safe. Whatever the terms of the bailout, they're likely not great for FRC shareholders.
The Signature closure is notable as well. Obviously, the regulators called around to all the banks in question, and they really didn't like something at SBNY. The press release noted that management had been "removed." We're going to get more information on this as time goes on.
Another item – despite repeatedly failing to deliver on the inflation front, Powell's Fed has so far mounted a very effective response to the evolving banking crisis. The main risk in my mind was that Republicans would take one side, Democrats would take another, there would be some debate for a few days about "moral hazard," and then a million people would file for unemployment this week after hundreds of companies miss payroll. That's not going to happen thanks to the quick action by the Fed and Treasury here. Powell's biography by WSJ's Nick Timiraos likely gave some clues as to how a situation like this might be handled, citing when a young Powell was involved in dealing with the 1990 failure of the Bank of New England. Powell came out on the side of making depositors whole in that episode. Moral hazard is an issue here because as the government you don't want banks to be emboldened by FDIC guarantees to take crazy risks (i.e. privatize the gains and socialize the losses). But you also don't want your local bakery or restaurant or retail store to go out of business through no fault of their own because they trusted their money with a bank that goes belly up.
Implications For The Stock Market
I wrote on Friday when covering the failure of Silicon Valley Bank that the common and preferred stock of the too-big-to-fail banks were buys, most regional banks were holds, and banks with runs or credible rumors were sells. I still believe this to be the case. Signature is the second largest bank to fail, and the old saying about there never being just a couple of cockroaches is likely true here as well. More banks are likely to fail in the coming days and weeks, and the first ones of them are likely to be some of big regional banks already under intense pressure. But there's nothing so far to tell me that the whole banking system is at risk, so brave investors are likely getting nice compensation for buying the preferred and common stock of too-big-to-fail banks here. I still think cash is your overall best market bet and that stocks are on the expensive side, but you can take value wherever you can find it.