"Japan's Shionogi & Co. Ltd. believes its COVID-19 pill will easily garner $2 billion in annual sales if it secures U.S. approval, which the company expects to receive in late 2024" – Reuters
Introduction
In Japan, and around the world, the COVID pandemic is ending. However, new classifications of the disease place COVID amongst other recurring, infectious diseases like influenza. This is critical because the flu causes a negative cost of over $100 billion per year to the US economy, a truly large burden. Direct treatment costs are also estimated at over $10 billion per year. However, the total cost of COVID is still unknown on a yearly, or normalized basis. However, to date, COVID remains a multi-billion impact whether by vaccine or antiviral therapies, or loss of productivity. Therefore, an ecosystem of treatment will be established for the long term just like the flu, regardless of how deadly or sickening the disease is.
Unfortunately, for most COVID ecosystem companies, the outlook is about slowing momentum, rather than gaining momentum. For example, Pfizer (PFE) expects vaccine and antiviral revenues to fall by over 50% each for 2023, compared to 2022. For testers like Laboratory Corp. of America (LH), revenues are expected to decline by up to 90%. Other former beneficiaries like Hologic (HOLX), Thermo Fisher (TMO), Quest Diagnostics (DGX), BD (BDX), Merck (MRK), Moderna (MRNA), and many more, are all facing headwinds after strong runs in 2020-22.
However, one company is set to benefit while the others remain weak. Shionogi (OTCPK:SGIOY), is a Japanese pharmaceutical that has developed an antiviral therapy that is potentially more effective than Paxlovid, the current primary antiviral therapy. The therapy, Xocova, has already earned emergency use authorization in Japan, and global Phase 3 Trials are now underway for a potential US approval by 2024. I have discussed more about Xocova in a prior article, so I suggest starting there for more background.
Financial Implications
So far, Xocova has already allowed for Shionogi's revenues to jump 150% YoY to over 180 billion yen, or over $1.3 billion USD in one quarter. From April to December, 100 billion yen was related to COVID products, primarily the recently approved Xocova. This has been a great boon for the company as their other assets have seen declining growth over the past few years, apart from their highly fruitful ViiV Healthcare royalties (part owned with GSK (GSK)). While dependable, Shionogi has failed to drive linear momentum until the pandemic as it was not a candidate for investors. Now though, Shionogi has gained a new life as a viable investment, and the implications will now be discussed.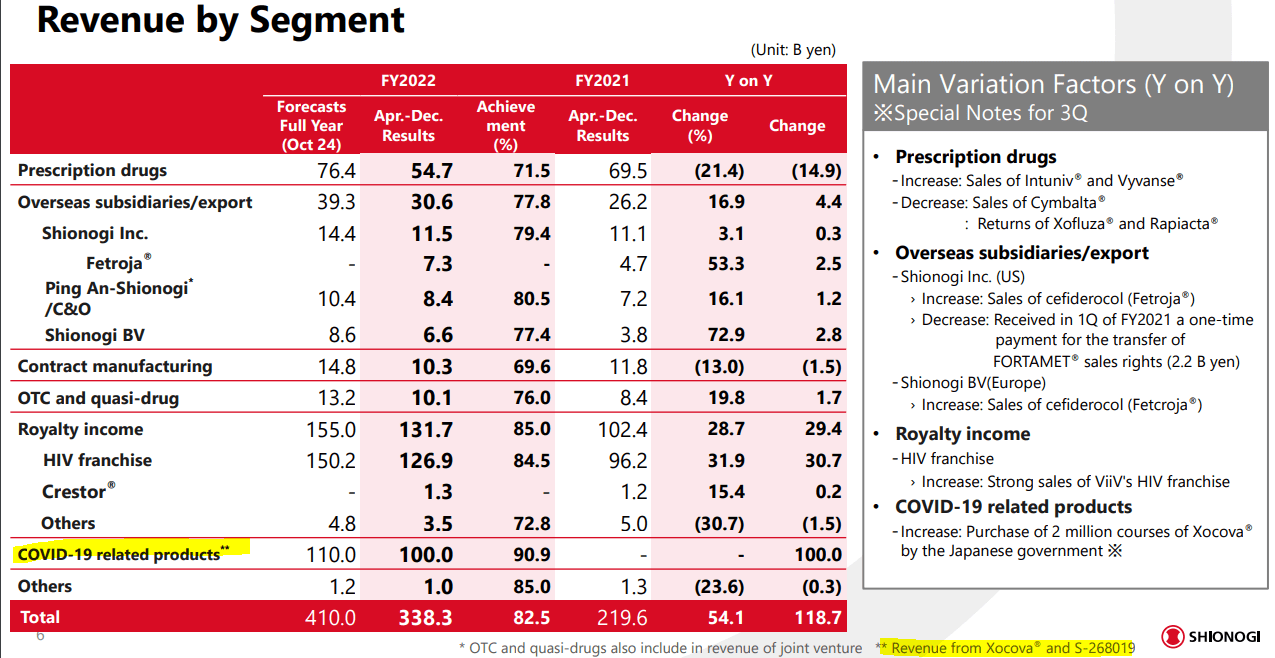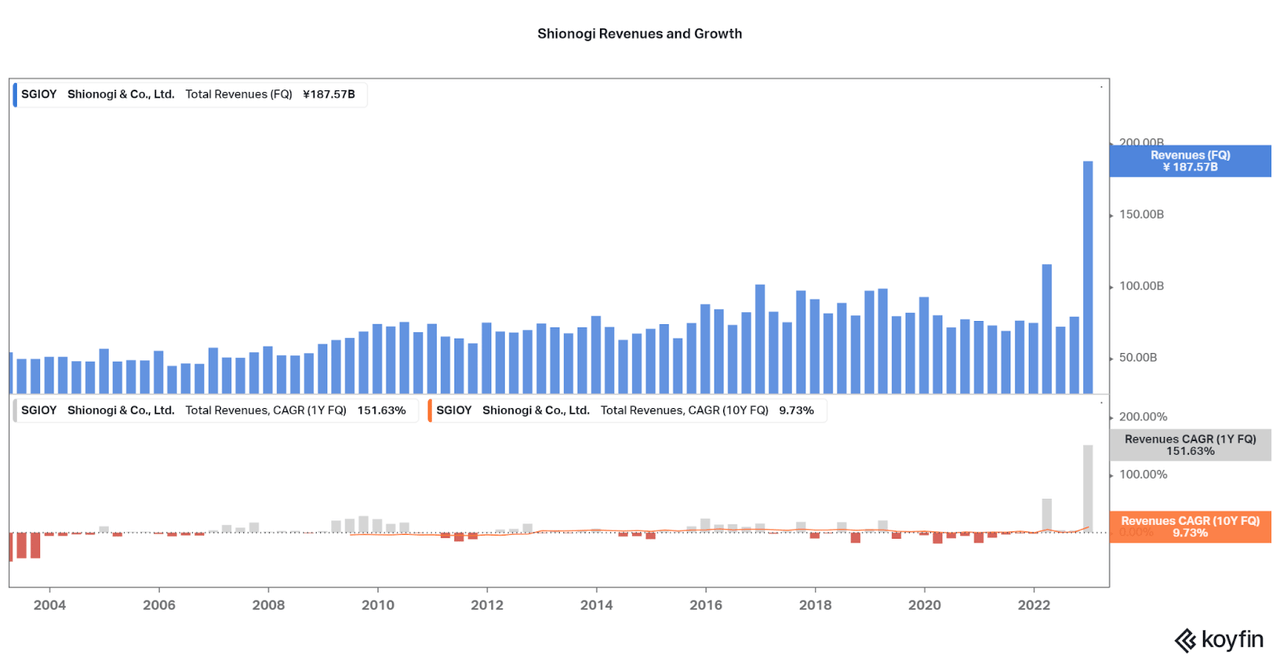 Despite the slow growth, Shionogi has historically been a highly profitable enterprise. This includes a pattern of rising EBITDA and Net Income margins over the past 10 years, apart from some pandemic-era EBITDA weakness. Now with the huge surge in Xocova revenues, both the EBITDA and Net Income margins have reached new high levels at 47% and 44%, respectively. Do note that the high net income margins reflect the royalty payments that go straight to the bottom line, but there was still a meaningful boost in profit as of the last quarter thanks to Xocova. With an all-time record profit of over $700 million USD coming into the company, a range of outcomes can now occur to benefit investors.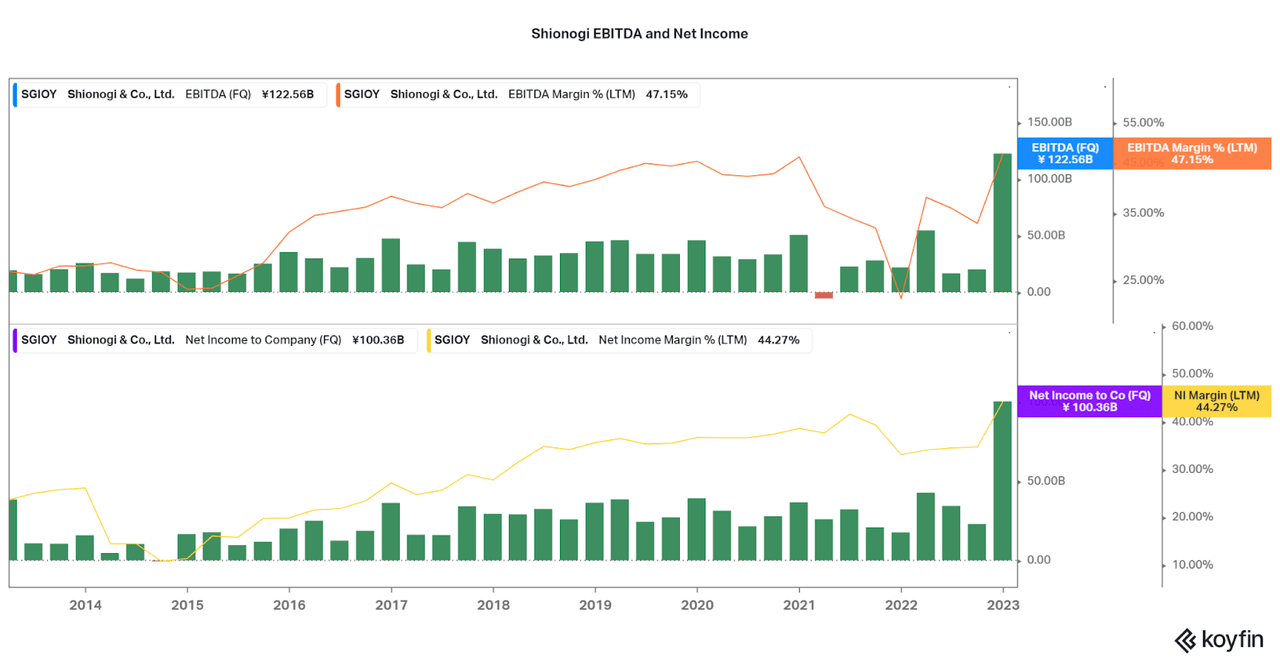 Perhaps first on many investors' radar is an increased, or special, dividend. I believe the dividend will remain a safe option to rely on for a ~2% yield, despite the volatile history. Since the dividend is based on yearly operation profits, the next earnings may be the key report for dividend seekers to focus on. However, management has stated that they will continue "aggressive" investments into R&D, which I find is a better use the profits for the time being. No need to create an excessive dividend that is not sustainable, but instead find new cash flow generating assets for the future.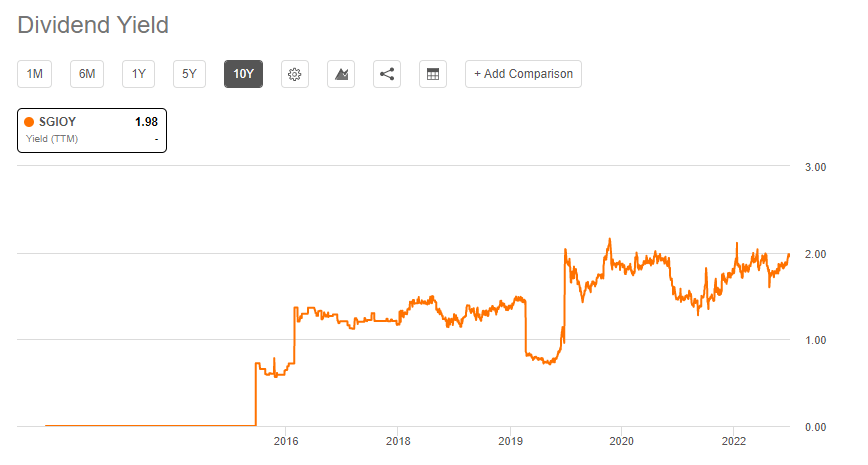 There is also potential for the balance sheet to continue strengthening. First, total debt is already miniscule, and cash has reached over $3.5 billion USD. This stockpile has continued growing for 10 years, even as shares outstanding have been reduced by 20% during that time. I expect further buybacks to be a viable option as well, especially when considering the implications of the extremely low current valuation. However, I believe that until investments in the Xocova supply chain are complete, and a global launch is prepared, the cash pile will remain elevated and even continue growing.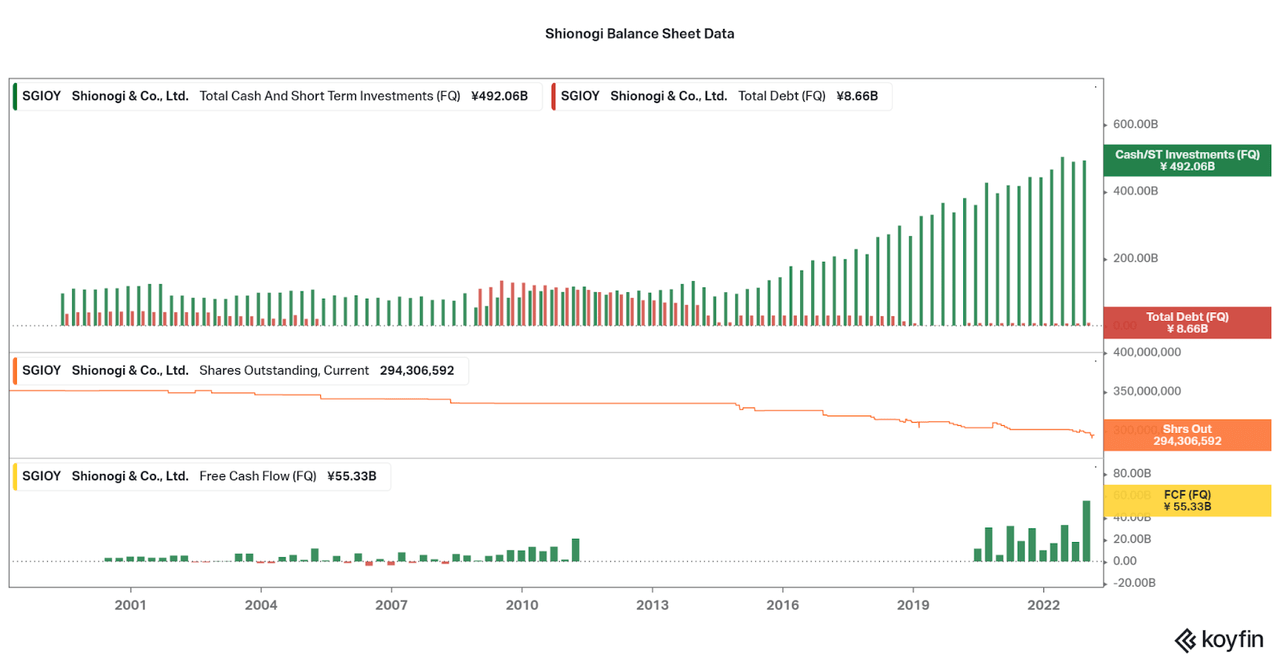 Thankfully, considering the current valuation, investors can happily buy into the company at a low level and gain exposure to the coming potential approvals. After the last earnings, Shionogi's P/S fell to a near record low of 3.9x. Same goes for both the P/E and EV/EBITDA at 9.0x and 6.2x, respectively. Even when compared to other pharmaceuticals, this is a low valuation. Rising back to prior levels would account for a doubling of the share price. While uncertainty about the timing of Xocova revenues has not caused the valuation to rise, I believe that if the therapy becomes a regular purchase for many, leading to increased transparency.
With over $1 billion in revenues from Xocova so far only in Japan, and an additional yearly amount of $2 billion expected with a US approval, I believe the company's valuation will begin to reset. While many are hesitant now as a global approval has not occurred, further expansion in China and South Korea is slated for the next few quarters. No matter what, the current balance sheet, profit margins, and cash on hand are well suited to provide some form of return even without gambling on a US approval.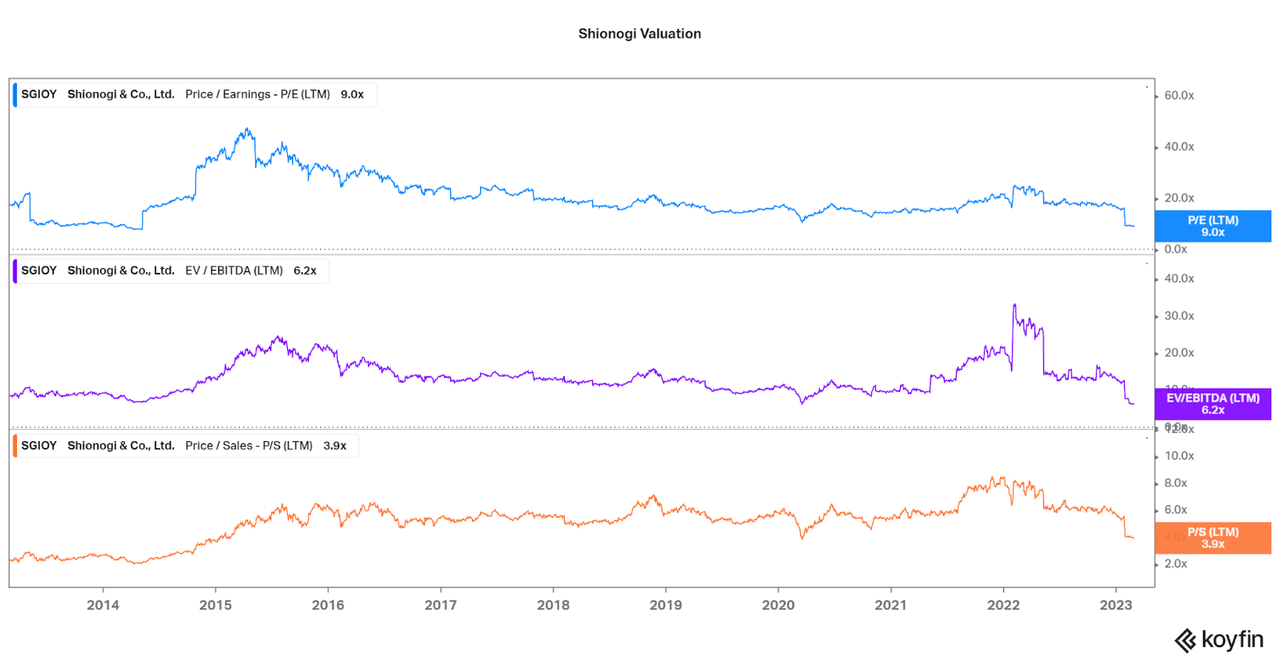 Conclusion
With their COVID antiviral just beginning to take off, and the valuation falling, rather than climbing, I believe that Shionogi is the last viable pandemic-era investment. While it is clear that the pandemic itself is ending, if COVID becomes a seasonal infectious risk like the flu, then a multi-billion opportunity remains. With Shionogi having the fast-follower advantage – better efficacy, no requirements of patients having moderate symptoms, etc. – they will remain the clear leader in the antiviral segment. Also, strong profitability will generate tremendous amounts of cash to be reinvested in the company, a company with an already rock-solid and healthy balance sheet. As such, I believe the opportunity for investors is heavily skewed towards a positive outcome despite the weak market sentiment.
While there is still some risk that investors will sell off due to a slow US regulatory process, the valuation is already skewed towards a negative outcome. Shionogi stock is priced as if Xocova sales will only occur for one year then stop, which is quite unlikely. It certainly does not help that global COVID cases are at a new low point since the start of the pandemic. Therefore, I will now begin to slowly accumulate shares and will hold for at least a few years until Xocova sales normalize, then reevaluate. I will certainly keep the investment as a small part of my portfolio until meaningful improvements begin.
Thanks for reading.
Editor's Note: This article discusses one or more securities that do not trade on a major U.S. exchange. Please be aware of the risks associated with these stocks.