Build-A-Bear Workshop, Inc. (NYSE:BBW) has high-profit expectations with a long-term focus on engagement spanning generations. Unfortunately, early investors may have stuffed their ears following its mid-2015 value trap infamy and the subsequent 80% drop over five years. The pain of holding a downtrending company may have caused divestment without a proper re-entry plan.
I believe the current-day Build-A-Bear, ranked first in its industry, is a massive improvement over its predecessor. While cheap on multiple valuation metrics, overvaluation on the classic Book/Price metric hides it from the most traditional value investors' view. In addition, it has an impressive return history alongside significant profitability expectations set by management. All while individual ETFs hold well under a full percentage allocation. In my view, this firm has convincing performance and is significantly profitable yet simultaneously deeply undervalued, leading to my Strong Buy rating on BBW stock despite current uncertainty.
Strong Profitability And Expansion
Build-A-Bear has a popular global brand serving customized stuffed animals and characters via engrossing experiences to all ages. It recently raised its guidance for fiscal 2022, expecting to set a new profitability record for its 25-year history. Details of the high-quality expectations are expanded on in the company's IRC Conference 2023 presentation.
Notable mentions include the moat-like aspects forming alongside the company's continued growth. At experience locations, roughly a third of sales are to teens and adults as the 'owner' of the bear. Of online orders, 70% of sales are to teens/adults as the 'owner'. I believe this, coupled with the experiential focus, high brand awareness, and increasing digital demand growth, may provide a strong moat even during a recession.
In addition, the presentation included key details regarding financial realizations and forward expectations. These address total revenues, pre-tax income, and EBITDA. According to the presentation, the first nine months of 2022 achieved $322.8mm in total revenue, $35.7mm in pre-tax income, and $45.0mm in EBITDA. Each of these is a record-setter in the company's history.
At the same time, Build-A-Bear has made many headlines recently for expanding its marketing efforts. In December, the firm's Tycoon game launched on Roblox, placing the company's brand in kids' ever-present virtual worlds. Afterward, on January 9th, BBW announced their new Senior Vice Present and Chief Technology Officer.
Come January 17th, Build-A-Bear CEO, Sharon Price John, released a 232-page inspirational book, "Stories & Heart: Unlock the Power of Personal Stories to Create a Life You Love," that includes actionable exercises for personal growth anyone can implement in their own lives. Simultaneous with the launch of Ms. John's Stories & Heart podcast series, it further places the ever-meaningful brand in front of older age groups.
Performance since 2015
Longtime value investors in Build-A-Bear Workshop might not have looked at the stock since its mid-2015 Value Dip on June 1st, 2015, and the subsequent drop over the years. A buy-and-hold investor would have endured a 5-year period with a total drawdown of over 85%. Even the most ardent value investor likely struggled to hold through that period.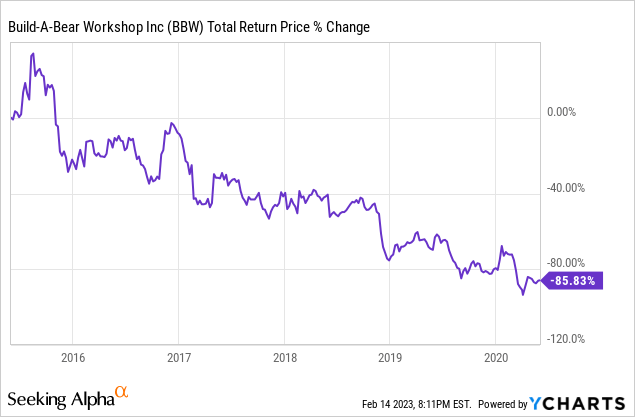 Today, their mid-2015 principle would have a mere 59.39% return. For reference, an investor getting in mid-2021, a year after performance reversed to the upside, would have achieved a 50.31% return in just over a year's time.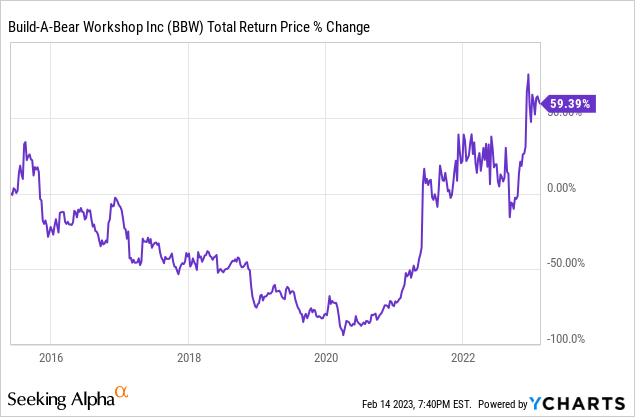 Valuation
I find that the valuation of Build-A-Bear Workshop is cheap on all metrics below except for the classic Book/Price metric.
At only the 30th percentile of value on the Book/Price metric, the stock's lack of coverage may be because the most traditional value metric does not properly reflect its cheapness. This would lead to book-value-focused strategies and managers not paying much attention. On the other hand, many modern portfolio managers have moved on from the B/P metric. They believe B/P is primarily flawed because it tends to understate intangible and long-term assets.
| | | | | | |
| --- | --- | --- | --- | --- | --- |
| As Of 2/10/23 | Book/Price | Earnings/Price | EBITDA/TEV | Cash Flow/Price | Sales/Price |
| Value | 28.60% | 14.10% | 16.30% | 16.60% | 133.50% |
Compiled by Author using data from Alpha Architect.
However, we can also see how cheap it is relative to its Consumer Discretionary sector, using Seeking Alpha's valuation grade: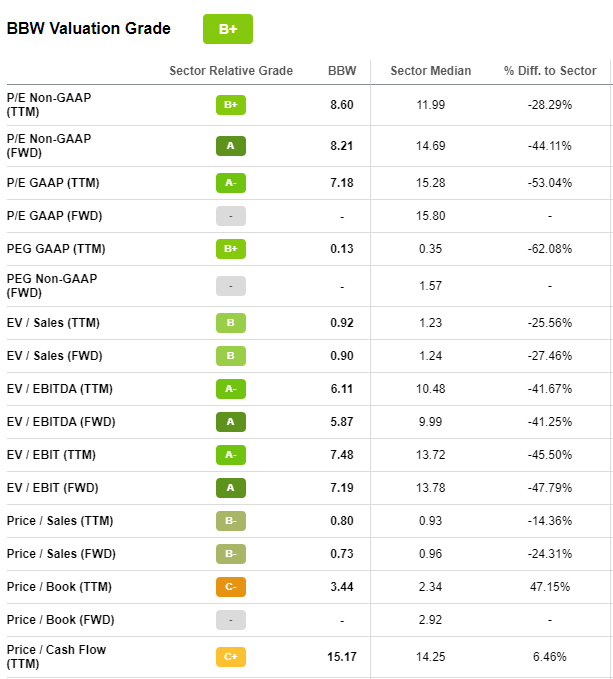 Along with an overall B+, we see a similar result with only price/book and price/cash flow considered overvalued relative to the rest of the sector.
Unfortunately, it's still possible that an investment in BBW is catching a falling knife. To determine whether this is likely to be a value trap today, we can analyze the performance's expected forward direction.
Momentum Significance Analysis
Below are signals to predict performance directionality. Ordered from the most significant predictor of the following quarter's performance to the least significant, with performance recorded as of End-of-Day Tuesday.
| | |
| --- | --- |
| Momentum Signal | Performance Over Period (as of Tuesday, February 14th) |
| 12-Month Momentum (excluding the past 2 weeks' Momentum) | 21.17% |
| 12-Month Momentum | 17.36% |
| 9-Month Momentum | 25.60% |
| 6-Month Momentum | 31.03% |
| 1-Month Momentum | -2.90% |
| 2-Week Momentum | -3.81% |
Compiled by Author using data from YCharts
While the 2-week and 1-month periods are the most likely to reverse, the 12-Month Momentum (excluding 2-Week Momentum) is the most likely to continue. The additional Momentum metrics verify the consistency of Momentum over the full-time period.
This consistency of positive performance indicates an investor should expect positive performance in the near future as well. This assumes a risk doesn't yearn its ugly head when investors aren't paying enough attention.
Risks May Bear Out A 'Value Trap' Thesis
Now, while I believe the 2015 value trap drop sufficiently explains the lack of coverage, it cannot account for the exceptionally low percentage held within systematic ETF strategies. For example, the 6th largest allocation within ETFs is held by the Avantis U.S. Small Cap Value ETF (AVUV) I covered previously.
While one explanation could be that the low price/book metric prevents a high weighting, I believe there may be another if we flip the focus from valuation back to momentum. Specifically, if we consider volatility, it is not kind to the Momentum significance analysis posted earlier. I explained this concept in a recent article,
Although the Momentum metrics point towards positive performance over the following months, the 'Frog-in-the-Pan' theory states that momentum strategies tend to be more profitable in upward-facing markets and markets with lower volatility. As discussed earlier, these aren't necessarily upward-facing markets, given lower expected returns than riskless treasuries…
To analyze this volatility quickly, one could eyeball the past performance chart over the past 10 months and compare it to a beautifully simple chart Alpha Architect's CEO, Wesley Gray, drew up for a 'Frog-in-the-Pan' explanation.
For reference, we can compare the volatility of Build-a-Bear Workshop to the Alpha Architect U.S. Quantitative Momentum ETF's (QMOM) largest holding, Valaris Ltd (VAL). While both stocks have just under 60% monthly standard deviation, the number isn't what matters most. It's more important to notice the consistency (or lack thereof) regarding said volatility.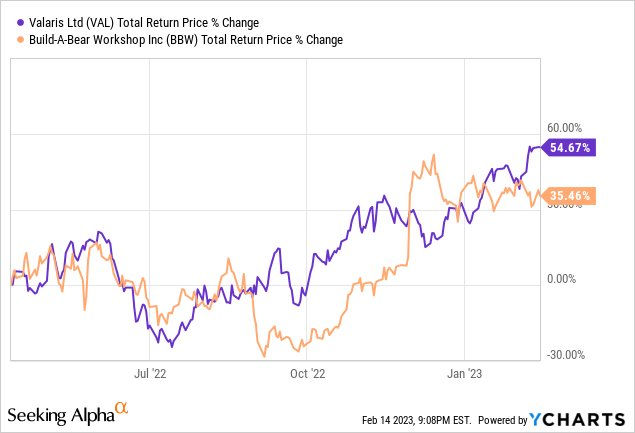 As seen above, there have been some large spikes and falls in BBW's performance over the past ten months. This spiky lack of consistency may be one potential cause of BBW's low weighting within ETF strategies, as it poses an additional risk.
Takeaway
In my view, Build-A-Bear is an undervalued industry leader with upward Momentum and strong brand value. With consistent news of expansion beyond its initial target market, I believe Build-A-Bear is forming a generational moat.
Even as Build-A-Bear's Momentum appears quite significant on an initial pass-through, it may turn into what I would classify as a 'Momentum trap' instead of the Value trap experienced in 2015. Furthermore, I believe its volatility patterns may pose an additional risk.
In my view, this could make a fantastic candidate for a value or quality portfolio for the long-term. Despite the volatility, this unnoticed company's significant profitability and deep undervaluation amidst convincing performance bear out my Strong Buy rating.