Shutterstock (SSTK), the American creative content solutions firm, has been riding a doozy of a downtrend from October 2021 to the end of 2022. Aside from the bear mauling, SSTK's fundamentals weren't entirely disappointing. There were two positive (yet dwindling) earnings and revenue "beats," one mixed earnings report, and, finally, a full-on negative miss on both counts in Q2 before hints of a mixed recovery in Q3, punctuated by an earnings beat and a revenue miss.
Still, the last report did very little to kindle "green shoots" in market sentiment. The company even received a stinging downgrade in November from investment bank JMP Securities, because of increased competition from generative AI. According to the bank, Shutterstock's stock photos may lose value because of AI's ability to generate images from simple text prompts. 
But that narrative changed in January 2023. A flurry of announcements hinted that Shutterstock wasn't going to be overrun by the AI trend. The company was making strides to claim a sizable stake in the coming "singularity" engine.
SSTK Claims a Stake in the "Singularity" Space
Perhaps it was a matter of seizing opportunity, hedging against near-term disruption, or gaining early favor with the future "masters" of singularized humankind. Either way, SSTK announced its strategic partnerships with key AI players Meta, OpenAI, and LG AI Research in an effort to advance generative AI research (the very thing analysts claimed would disrupt SSTK's future prospects). SSTK also launched its own generative AI-based creative platform, one that creates visuals based on (you guessed it) text prompts.
To sweeten the deal for its shareholders, SSTK also increased its dividend (by $0.27 per share) payout by 13% over the previous quarter. Dividends based on the current price level amounts to a 1.41% yield.
SSTK share price surged 50% following the announcements and is now up 41% YTD, just as it's slated to report Q4 22 earnings on Thursday, February 9, 2023, before the open.
SSTK's Sector and Industry Rankings
Let's step back and look at SSTK's place within its larger Communication Services sector performance. Looking back on a three-month period…
The Communications Services Sector fund (XLC) sector is outpacing all 11 S&P sectors, with a strong gain of 26.16% and a StockCharts Technical Ranking (SCTR) rating of 91.4. Now let's zoom in to see industry performance.

Among the six industries within the sector, Publishing holds the highest SCTR score (83.5) based on a three-month lookback.

And within that industry group, SSTK holds the highest SCTR score of 91.8, placing its technical favorability at the top range of potential performers.

SSTK's Technical Picture on the Eve of Earnings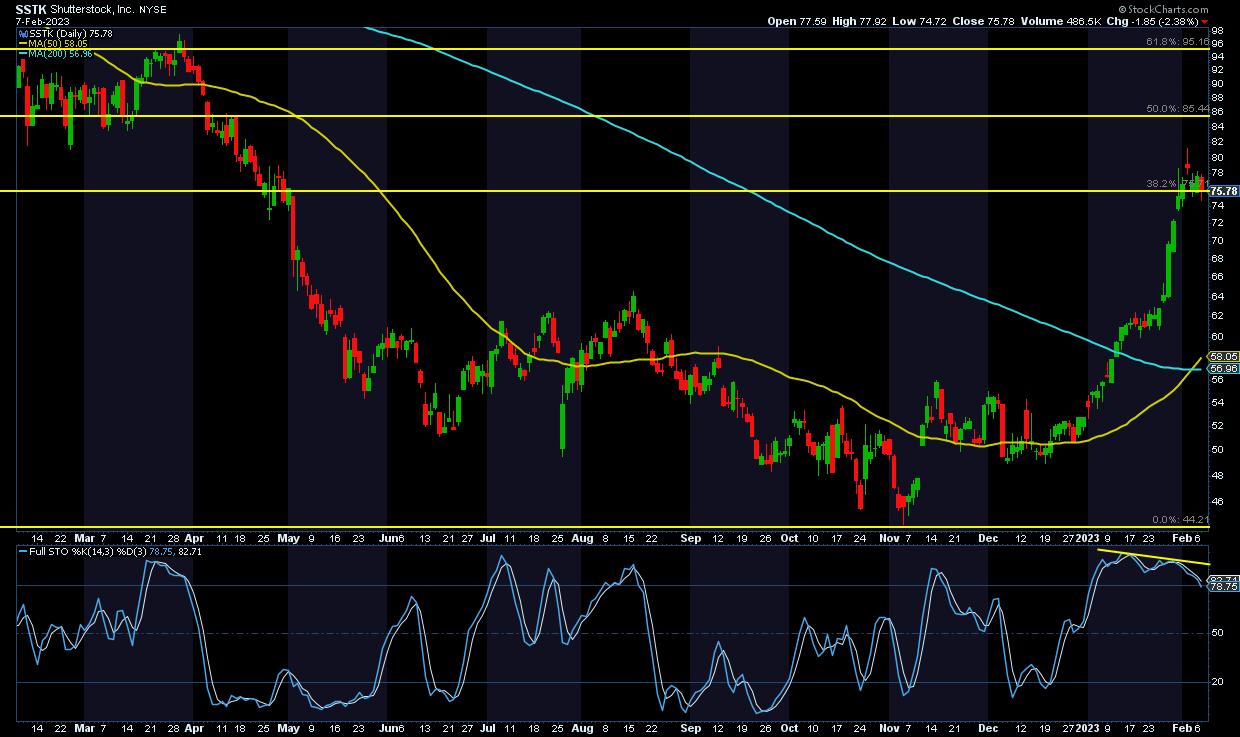 CHART 1: SHUTTERSTOCK'S DAILY PRICE CHART PRE-EARNINGS. SSTK has a few things going for it: a Golden Cross, it's up against its 38.2% Fib retracement level, and a fundamental pivot. But a divergence between price and the stochastic oscillator could mean a reversal may be underway. Chart source: StockCharts.com. For illustrative purposes only.
In the above chart, you can see the impact that the announcements have had on SSTK's share price.
Using the Fibonacci retracement levels from the October 2021 high of 126.12 and November 2022 low of 44.40, SSTK broke above its 38.2% retracement levels but stalled and pulled back.
The swing leading to SSTK's eight-month high at 81.23 correlates with a divergence on the stochastic oscillator, suggesting a near-term reversal that is underway.
SSTK's strong momentum was enough to generate a Golden Cross reading. The 50-day moving average (yellow line) is now above the 200-day moving average (blue line).
Will SSTK Shock or Shutter Come Earnings?
Much is riding on SSTK's earnings report on Thursday (February 9), as traders weigh the prospect of any earnings beat, miss, or mix and guidance against the longer-term prospects that set the stock to surge in January.
A dismal earnings report could send SSTK down below the $60 range, putting SSTK's technical (along with its fundamental) prospects in question. Be sure to add this stock to one of your ChartLists. When the earnings report is released, consider any developments in company guidance and other partnership announcements.
If the earnings report surprises and the stock moves higher, there's a lot of upside room. If you are going to open a long position, the 38.2% Fib level would be a potential stop level. SSTK may be playing the long game, but developments in the AI space are also moving at an accelerated rate.
---

About the author:
Karl Montevirgen
is a professional freelance writer who specializes in finance, crypto markets, content strategy, and the arts. Karl works with several organizations in the equities, futures, physical metals, and blockchain industries. He holds FINRA Series 3 and Series 34 licenses in addition to a dual MFA in critical studies/writing and music composition from the California Institute of the Arts.
Learn More
Subscribe to
Don't Ignore This Chart!

to be notified whenever a new post is added to this blog!