When diners make their way to Esmé, a Michelin-starred Chicago restaurant known for its fanciful tasting menu, they have the option of pairing their food with an equally fanciful array of cocktails.
The drinks range from one called Curried Corn, made with corn stock and an array of spices, to another dubbed Johnny Apple Tea, prepared with a black tea and something billed as "popcorn verjus" — essentially, grape juice flavored with caramelized popcorn.
But there's one thing you won't find in any of these: booze.
Esmé beverage and operations director Tia Barrett says she is trying to bring the same level of detail and sophistication to her pairing menu of eight nonalcoholic sips — which is a $135 add-on to the restaurant's $235 tasting menu — as bartenders have done with so-called craft cocktails. She even refuses to refer to the drinks as mocktails, a term commonly used for booze-free offerings.
"It discredits the effort that goes into the beverage," she says.
These days, watering holes across the country are trying similar efforts, especially as the bar and restaurant industry looks to woo customers going sans alcohol during the first month of the year, the practice known as Dry January. In 2022, 19% of adults in the U.S. said they were participating in Dry January, up from 13% the previous year, according to a survey from research company Morning Consult.
That percentage seems poised to grow in 2023, says Emily Moquin, food and beverage analyst at the company. Part of what is fueling the trend: the sheer variety of nonalcoholic offerings, including mocktails. "There are so many alternatives now," she says.
Alternatives include the Faux|groni, a sober-minded take on the classic Negroni cocktail. The drink is featured on the menu at Brother Wolf, a bar in Knoxville, Tenn. It "would fool a seasoned Negroni drinker," says co-owner and co-operator Jessica King.
Or the Rural Juror, a nonalcoholic drink at Mister Paradise, a New York City bar. It combines carrot juice, spices, cream and sparkling water into a concoction that owner Will Wyatt says is reminiscent of an Orange Julius. "You've got this big fluffy body," he says of the sip's texture, adding that the drink's name was lifted from a reference in the sitcom "30 Rock."
Gair, another New York bar, tries an amusing approach to naming mocktails. It has a nonalcoholic drink, made with muddled blackberries, lime juice and ginger syrup, that it calls Look Ma, No Booze. "We do like to have fun," says Robert Struthers, Gair's beverage director.
In Dallas, a number of bars and restaurants that are part of what's known as the Margarita Mile have a bevy of boozeless options. Some are inspired by the familiar tequila-based cocktail, such as the Hibiscus Mockarita, made with hibiscus syrup and lime juice, offered at both Joe Leo and the Rustic, two establishments under the same ownership.
This isn't the first round of mocktails. Long before bartenders starting crafting nonalcoholic drinks with a dizzying list of ingredients, they were cranking out "virgin" versions of cocktails such as the Bloody Mary and the Piña Colada. Or simply offering teetotalers basic drinks such as cranberry juice and soda water.
Now, there's a push to get more creative and to charge almost as much for nonalcoholic drinks as for boozy ones. Mocktails at higher-end bars are generally priced at $10 and up—and in some cases, they top $15.
At Alice, a New York City Italian seafood restaurant, the nonalcoholic drinks run $17 and up. Managing partner Waél Deek says it's partly because some specialty ingredients, such as the faux versions of spirits flooding the market (think alcohol-free "gin"), aren't necessarily cheap. But it's also because the drinks can be so labor intensive: It's no easy task replicating the taste and texture of an alcoholic sip, he says.
"You have to be more precise with what you're doing," Deek says. "Otherwise, you might as well just serve juice."
""You have to be more precise with what you're doing. Otherwise, you might as well just serve juice.""

— Waél Deek, managing partner of New York City restaurant Alice, on the art of making mocktails

There is also a fair bit of R&D that goes into some of the mocktails popping up. Dennis Gobis, co-owner and co-operator of the Roosevelt Room, an Austin, Texas, bar, says he went through nearly 50 versions of his nonalcoholic Negroni—or Na'Groni, as he calls it—before he came up with the perfect formula. The key ingredient: a small bit of vegetable glycerin.
"It just builds up the mouthfeel," Gobis says.
Some in the bar and booze industries aren't convinced this new wave of mocktails hits the mark. Many say the drinks are often too watery or too sweet. Other observe that it's just hard to deny the role that booze plays both in terms of how it balances out a cocktail and how it helps us to unwind.
"You want that alcoholic kick," says Jared Bailey, manager of the Soho Cigar Bar in New York City.
Hilary Sheinbaum, a New Yorker who considers herself a mocktail connoisseur and has written a book, "The Dry Challenge: How to Lose the Booze for Dry January, Sober October, and Any Other Alcohol-Free Month," has a few pet peeves as well. Among them: Nonalcoholic cocktails are sometimes served in plain-Jane glasses or they come without a garnish.
"I will die on this hill. It's an alcohol-free drink, not a garnish-free drink," Sheinbaum says.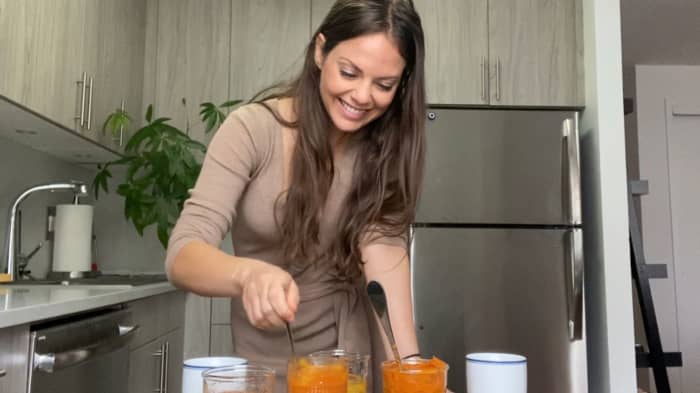 One of the oldest and simplest of mocktails, the kiddie-oriented Shirley Temple, has come back into vogue—the "OG mocktail," as the website Thrillist described the drink. It is traditionally made with ginger ale or lemon-lime soda, grenadine syrup and a maraschino cherry.
Now it comes with a twist: Many bars are serving up an alcoholic version —often called a Dirty Shirley. At Superfrico, a restaurant and bar in Las Vegas, the drink is dubbed Call Me Shirley and it's got no shortage of booze in it, says beverage director Mauro Villalobos. The recipe calls for gin, sherry and a bit of Aperol, the Italian aperitif.
"I sell a ton of them," Villalobos says.